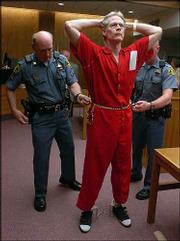 Topeka — A former Kansas State University English professor convicted of killing his ex-wife in rural Douglas County was denied a fair trial because of inappropriate statements made by prosecutors, a defense attorney argued Thursday before the Kansas Supreme Court.
The statements were "far outside the latitude given to prosecutors in closing arguments," said attorney Sarah Ellen Johnson, who represents Thomas Murray as he appeals his conviction for killing Carmin Ross.
Johnson also argued that Douglas County District Court Judge Robert Fairchild inappropriately allowed testimony of statements Ross had made to others before her death, and testimony that showed the jury that Murray had at one point refused to talk with investigators.
Douglas County Assistant District Attorney Angela Wilson conceded that one of the statements by prosecutors during closing arguments "may not have been the most well-turned phrase." But she said the statement didn't rise to the level of flagrant misconduct and shouldn't be used to grant Murray a new trial.
The case
Murray has been sentenced to life in prison for the stabbing death of Ross. He has denied killing her.
Ross' body was discovered Nov. 14, 2003, in her home north of Lawrence.
Murray and Ross, who had divorced in 2003, had been involved in a custody dispute over their 4-year-old daughter.
Police arrested Murray after nearly a yearlong investigation.
Justices peppered Wilson with numerous questions about the trial.
During the trial's closing arguments, Tom Bath, a private prosecutor hired by the Ross family, stated to the jury, "His best friend thinks he is a murderer."
Bath was referring to testimony by Murray's friend Gay Lynn Crossley-Brubaker.
Johnson said Crossley-Brubaker never said that. She also argued the personal opinion of a witness should not be allowed to be repeated in closing arguments.
Justices also questioned Wilson about testimony from Ross' mother and friend about conversations they had had with Ross about her deteriorating relationship with Murray.
Wilson argued that all the rules were followed to allow such hearsay evidence.
A decision in the case is expected Oct. 28.
One justice, Robert Davis, was absent from the proceeding because of a family emergency. But Davis will listen to the recorded arguments and participate in a decision in the case, according to court spokesman Ron Keefover.
Copyright 2018 The Lawrence Journal-World. All rights reserved. This material may not be published, broadcast, rewritten or redistributed. We strive to uphold our values for every story published.