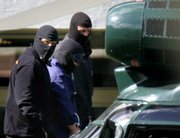 Berlin — Three suspects allegedly trained in Pakistan by an al-Qaida-linked group have been arrested for plotting massive car bomb attacks on U.S. troops and other Americans near U.S. military bases and German airports, authorities said Wednesday.
After months of surveillance during which German police secretly replaced a stockpile of bomb chemicals with a weaker mixture, a SWAT team raided a vacation home in a wooded village in central Germany on Tuesday and arrested the trio, two of whom were German converts to Islam. One of the suspects grabbed an officer's gun, shooting him in the hand during a struggle.
Searches in five German states deployed 600 officers, an unprecedented number for an anti-terrorism operation led by federal police here, on the same day that Danish police seized bomb materials in Copenhagen and charged a Pakistani and an Afghan with plotting an attack under the direction of unidentified al-Qaida leaders. Authorities said they knew of no direct connections between the men arrested in the two European nations.
The two plots stoke fears that a resurgent al-Qaida is using hideouts near the Afghan-Pakistani border to train Europe-based militants to hit Western targets in Europe, which has become a front line because it is easier to enter than the United States and has a larger, more restive Muslim population.
The trio in Germany allegedly planned simultaneous strikes on three soft targets that might have included nightclubs, bars, restaurants or airports frequented by American soldiers and tourists, according to German and U.S. law enforcement officials. Because the confiscated materials could have produced the equivalent of about 1,000 pounds of TNT, the casualty toll could have far exceeded the transport bombings that killed 52 people in London in 2005 and 191 people in Madrid, Spain, in 2004, officials said.
"The London bombs had only (6 to 10 pounds) of explosive material," said Joerg Ziercke, chief of the federal police, at a news conference with top law enforcement officials. "Here, we are talking about (approximately 1,000 pounds). In my opinion, a high number of casualties was the main objective, otherwise this enormous amount of explosives is hard to explain."
The third suspect arrested Wednesday was a Turkish Muslim living in Germany. The three allegedly underwent training last year at a terrorist camp in northern Pakistan run by the Islamic Jihad Union, an extremist network that broke away from the Islamic Movement of Uzbekistan, a longtime al-Qaida ally, authorities said.
German police conducted 41 searches Tuesday and were investigating seven to 10 associates of the jailed suspects, who were said to be testing mixtures and assembling bomb components at the time of their arrest. Surveillance revealed that the jailed suspects' primary motivation was a hatred of Americans, whether soldiers or tourists, German and U.S. officials said.
Danish and German police communicated with each other and U.S. counterparts about the raids, which came a week before the anniversary of the Sept. 11 attacks on America, a period believed to be of heightened risk. Investigators say that the fugitive leaders of al-Qaida have been emboldened by their ability to operate in Pakistan and have set their sights on new targets in Europe.
Copyright 2018 The Lawrence Journal-World. All rights reserved. This material may not be published, broadcast, rewritten or redistributed. We strive to uphold our values for every story published.