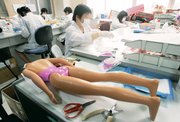 Guangzhou, China — Toy inspectors set fire to Elmo's bulging white eyes, tugged on Dora the Explorer's arms and scraped paint off a Barbie play set - tests they called a routine part of efforts to make sure Chinese products are safe for American children.
On the defensive after a series of embarrassing recalls, China's government invited foreign journalists to go on factory visits Tuesday in hopes of repairing the image of toy makers battered by global worries about the "Made in China" label.
No facilities tainted by recalls were visited, and executives wouldn't talk about troubles at competitors, but officials portrayed the sites on the one-day trip as fair representations of the high standards that China insists are followed by most of its export manufacturers.
The tour in southern Guangdong province - China's biggest toy-making region - came after Mattel Inc. removed 18.2 million Chinese-made items from store shelves. The dolls, cars and action figures were contaminated with lead paint or equipped with small, powerful magnets that could damage a child's organs if swallowed.
The Consumer Product Safety Commission, in cooperation with Mattel, announced late Tuesday that it is recalling about 700,000 Chinese-made toys that have excessive amounts of lead paint.
The recall covers 675,000 units of various Barbie accessory toys that were manufactured between Sept. 30, 2006, and Aug. 20, 2007. The action also involves 8,900 different toys involving Big Big World 6-in-I Bongo Band toys from the company's Fisher-Price brand. Those products were sold nationwide from July 2007 through August 2007.
The announcement marks Mattel's third major recall of Chinese-made toys because of lead paint in a month.
Mattel's last recall, announced on Aug. 14, covered about 19 million toys worldwide. They included Chinese-made toys that either had excessive amounts of lead paint or had small magnets that could easily be swallowed by children.
Toys have not been China's only problem products in recent months. Toxic chemicals have been found in exports ranging from toothpaste to pet food ingredients.
China's leadership has acknowledged that some of its manufacturers cut corners and used substandard materials. But officials contend the problem involves only a relatively small portion of its factories and is unfairly sullying the reputation of the entire business.
"China's toy-making industry is actually very good. It is not messed up like the Americans say it is," said Zhong Dechang, a top inspection official in Guangdong, which accounted for 70 percent of China's toy exports last year.
Tuesday's tour took journalists to two huge factories, a small plant and a government inspection center.
At the testing center - part of a network of 60 labs in Guangdong - workers in white coats and surgical masks scraped paint off plastic pieces from boxes labeled "Barbie hot tub party bus," a Mattel toy. The paint flecks were collected on white paper then sent to an in-house laboratory for chemical analysis.
"Some factories ask us to do these tests for them. With others, we force them to let us test their products," said Zhong, who works in the provincial capital, Guangzhou, in a tall new building with gray marble pillars in the front and two large stone lions at the entrance.
Christopher Devereux, a British businessman based in Guangzhou not involved with the tour, said there are plenty of dubious manufacturers in China. But he also said many factories turn out quality products at low prices.
Devereux, managing director of ChinaSavvy, which helps foreign companies find Chinese factories to make plastic parts, hardware and other products, said it was important for the outside companies to monitor and inspect their Chinese suppliers.
"I really don't have any sympathy for Mattel," he said. "There's no excuse to let so much product go through with lead in its paint. They should be testing. It's not difficult. There are hundreds of quality control laboratories in China."
Copyright 2018 The Associated Press. All rights reserved. This material may not be published, broadcast, rewritten or redistributed. We strive to uphold our values for every story published.