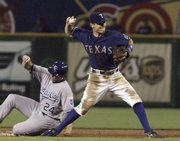 Arlington, Texas — Ian Kinsler was caught stealing two innings earlier, but that didn't change his approach on the front end of a double-steal in the seventh.
Kinsler raced home with the go-ahead run on a throwing error after stealing third, and the Texas Rangers held on for a 9-8 victory over the Kansas City Royals on Tuesday night.
Kinsler had three hits and two RBIs for Texas, which won for the eighth time in the last 10 games.
With the game tied at 6, the Rangers executed the double-steal with Kinsler on second and Michael Young on first. Kinsler scored when catcher Jason LaRue threw wildly past third baseman Alex Gordon for an error.
"You can't be scared of getting thrown out," said Kinsler, who had 17 straight successful steals before he was caught on consecutive attempts. "I felt I could make it. You're not going to steal a base if you don't try."
Royals manager Buddy Bell said his team made several mistakes on the double-steal.
"First, a good throw and (Kinsler) is out," Bell said. "Second, we can't allow the ball to go into left field. Third, we've got to pay more attention to the runner. So you can't blame just one guy."
Jason Botts, who had three hits to tie a career high, drove in Young from second with a single off Leo Nunez (2-3) later in the seventh to give Texas an 8-6 edge.
Botts started the night in a 4-for-32 slide that sent his average to .202.
"He needed a game like this," Rangers manager Ron Washington said. "Tonight he showed some bat speed. It's good for his confidence."
John Rheinecker (2-1) pitched a perfect seventh to pick up the victory, and C.J. Wilson yielded a run while getting the last two outs for his 11th save in 12 chances.
Mark Grudzielanek's eighth-inning RBI single off Frank Francisco pulled the Royals within one, but Joaquin Benoit got Ross Gload to ground into an inning-ending double play with the tying run on third.
Copyright 2018 The Associated Press. All rights reserved. This material may not be published, broadcast, rewritten or redistributed. We strive to uphold our values for every story published.