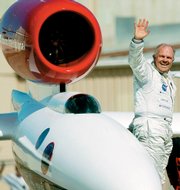 Minden, Nev. — Millionaire adventurer Steve Fossett, who has cheated death time and again in his successful pursuit of aviation records, was missing Tuesday after taking off in a single-engine plane the day before to scout locations for a land-speed record, officials said.
Teams searched a broad swath of rugged terrain in western Nevada near the ranch where he took off, but searchers had little to go on because he apparently didn't file a flight plan, a Federal Aviation Administration spokesman said.
"They are working on some leads, but they don't know where he is right now," FAA spokesman Ian Gregor said.
Fossett, the first person to circle the world solo in a balloon, was seeking places for an upcoming attempt to break the land speed record in a car, said Sir Richard Branson, the U.K. billionaire who has helped finance many of Fossett's adventures.
The 63-year-old took off alone at 8:45 a.m. Monday from an airstrip at hotel magnate Barron Hilton's Flying M Ranch, about 70 miles southeast of Reno. A friend reported him missing when he didn't return, authorities said.
Fourteen aircraft were searching for Fossett in addition to ground crews, said Maj. Cynthia S. Ryan of the Civil Air Patrol. The teams were conducting grid searches over 7,500 square miles - an area larger than Connecticut - but were concentrating on an area of 600 square miles.
"It is a very large haystack, and an airplane is a very small needle, no doubt about it," Ryan said during a late afternoon news conference.
The search was suspended Tuesday evening and was to resume this morning. Ryan said there had been no sign of Fossett's plane.
The terrain of the search area is varied, ranging from high deserts with dry lake beds and sagebrush to rugged mountain peaks. The landscape, combined with gusty winds, complicated Tuesday's search.
It is not uncommon for pilots flying out of a remote, private airstrip to do so without filing a flight plan, Ryan said. Fossett had "full radio capability" but did not make radio contact with anyone at the ranch after his takeoff.
The plane Fossett was in carried a locator that sends a satellite signal after a rough landing, but no such signal had been received.
Nevada National Guard aircraft planned to continue searching until late Tuesday, with full rescue efforts resuming this morning. Those aircraft are equipped with infrared and other high-tech vision equipment, said Col. Craig Wroblewski, the Guard's director of operations.
With infrared cameras, darkness can make it easier for search and rescue teams to spot a downed pilot - if still alive - because body heat can make a figure appear to glow against a dark terrain.
"We just want to find him alive," Wroblewski said.
Records galore
In 2002, Fossett became the first person to fly around the world alone in a balloon. In two weeks, his balloon flew 19,428.6 miles around the Southern Hemisphere. The record came after five previous attempts - some of them spectacular and frightening failures. Fossett's mission control was in St. Louis.
It is among dozens of firsts claimed by Fossett in his life as an adventurer, which he embarked on after a successful career in securities. He set marks for speed or distance in balloons, airplanes, gliders, sailboats - even cross-country skis and an airship, according to his Web site.
In March 2005, he became the first person to fly a plane solo around the world without refueling. He started and ended that flight in Salina, Kan.
He and a co-pilot also claim to have set a world glider altitude record of 50,671 feet during a flight in August 2006 over the Andes Mountains.
Branson said in a statement that Fossett's flight Monday was preparation for a shot at yet another mark: He was searching for dry lake beds that might be suitable for an attempt to break the land speed record in a car.
'A tough old boot'
Fossett was flying solo and had filled the plane's two fuel tanks, Branson said.
"Steve is a tough old boot. I suspect he is waiting by his plane right now for someone to pick him up," he said. "Based on his track record, I feel confident we'll get some good news soon."
Fossett has survived a number of close calls, including a 29,000-foot plunge into the Coral Sea after his balloon ripped during a storm in 1998. He was eventually rescued by a schooner.
Fossett has an application pending before the U.S. Bureau of Land Management for a permit to attempt the land-speed record on federal land in north-central Nevada's Eureka County, BLM officials said.
Ryan described Fossett's plane as a Bellanca Citabria Super Decathlon, blue and white with orange stripes and blue sunburst designs on the wings. The two-seat tandem "tail dragger" is capable of aerobatic maneuvers and is owned by Hilton, Ryan said.
FAA records show the registered owner is Flying M Hunting Club Inc. of Yerington. The agency certified it Aug. 21, 1980.
A woman who answered the telephone at Flying M Ranch on Tuesday confirmed Fossett took off from there Monday but declined to comment further or to identify herself.
Fossett's wife, Peggy, was at the ranch on Tuesday, Ryan said.
John Kugler, a longtime friend who taught Fossett ballooning, described Hilton's ranch as a place where aviation enthusiasts gather for weekends of good food and flying.
Kugler said that Fossett is a careful, capable flier and that his aircraft is a "safe plane."
"They're going to find him on a mountainside," Kugler said. "He's going to be hungry and want some good food."
Fossett, a Stanford University graduate with a master's degree from Washington University in St. Louis, went to Chicago to work in the securities business and ultimately founded his own firm, Marathon Securities.
Fossett has climbed some of the world's best-known peaks, including the Matterhorn in Switzerland and Mount Kilimanjaro in Tanzania. He also swam the English Channel in 1985, placed 47th in the Iditarod dog sled race in 1992, participated in the 24 Hours of Le Mans car race in 1996 and broke the round-the-world sailing record by six days in 2004.
In 1995, Fossett became the first person to fly solo across the Pacific Ocean in a balloon, landing in Saskatchewan.
Fossett was inducted into the National Aviation Hall of Fame in July. He told a crowd gathered at the Dayton Convention Center in Ohio that he would continue flying.
"I'm hoping you didn't give me this award because you think my career is complete, because I'm not done," Fossett said.
Fossett said he planned to go to Argentina in November in an effort to break a glider record.
Copyright 2018 The Associated Press. All rights reserved. This material may not be published, broadcast, rewritten or redistributed. We strive to uphold our values for every story published.