Photo Gallery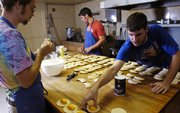 Pieroguys Pierogies
On the street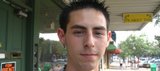 Yeah, I do whenever I get the chance. I like Thai food a lot. Indian can be OK depending on where you get it. Chinese is pretty common, but it can be pretty good as well. And Mexican, very excellent.
Growing up in northeastern Pennsylvania, Frank Gazella ate a lot of pierogies. "These are a No. 1 food," he says.
But when he came to Kansas University for college, the ethnic dumplings were virtually nonexistent.
"Nobody knew what it was," Gazella says. "That sparked the idea."
That idea, shared by his buddy Drew Misak, was to introduce Lawrence to pierogies through their own business, Pieroguys Pierogies.
Since starting the company in April, Misak and Gazella say they're exceeding their own expectations and winning over a lot of taste buds.
And they're answering this question a lot: What's a pierogi?
"Probably," Misak says, "from everybody who calls."
Ethnic roots
So what exactly is a pierogi?
Basically, it's dough with a filling inside. Most traditionally, that filling is a mixture of mashed potatoes and cheese.
Pierogies - which have several alternate spellings - trace their roots to several Eastern European countries, including Russia, Hungary and Poland.
They've remained a part of food culture in the United States wherever pockets of Eastern European immigrants settled.
That includes Whiting, Ind., which boasts an annual Pierogi Fest each July. The area has a large population of Polish, Slovac and Serbian families.
Gayle Faulkner Kosalko, who is in charge of the festival, says the event is popular for a nostalgia factor.
"Baby boomers, when we were young, spent Sunday at grandma's house and ate pierogies," Kosalko says. "Grandma's out golfing in Florida now. They want their kids to get a taste of that."
Kosalko, who doesn't care for pierogies herself, says there are many ways to prepare the food, including deep-fat fried, pan-fried and boiling.
"We probably have a dozen or more vendors out here," she says, "and each one does it differently."
Varieties
The Pieroguys have six different options for cooking their pierogies, which come frozen.
They're averaging 50 dozen a week, distributing mostly to restaurant or bars such as the Yacht Club, 530 Wis., The Crossing, 618 W. 12th St., Crimson and Brews, 925 Iowa, and Abe & Jake's Landing, 8 E. Sixth St. They're also available at Checkers, 2300 La.
Things will step up this fall for home KU football games, when pierogies also will be available at KU Alumni Association tailgates.
"It's the perfect beer food," Gazella says.
So far, Misak and Gazella are offering nine varieties. In addition to the traditional potato and sharp cheddar cheese, options include the Italian (sausage, pepperoni, mozzarella and potato), potato, cheddar and bacon, and sauerkraut, cheddar and potato. There also are dessert and breakfast pierogies.
'Pierogi empire'
For Misak and Gazella, operating their own business is a dream come true. Misak graduated from KU with a degree in psychology in 2006. Gazella left KU to join the Marine Corps, then returned to Lawrence last fall.
Though other varieties of pierogies are available at supermarkets, the local pierogi-makers say their versions are larger than most that can be purchased. And they want to keep them handmade as long as the demand doesn't become too large.
"We want to have a pierogi empire," Gazella.
And Misak says that Lawrence, with a progressive food culture, thinks this is the place to start that empire.
"If it's going to work anywhere west of the Mississippi," he says, "it'll work here."
Potato pierogies
Dough:
3 cups flour
1 teaspoon salt
1 teaspoon soft butter
2 eggs, lightly beaten
3/4 to 1 cup warm milk
Filling:
2 cups mashed potatoes
2 tablespoons butter
Salt and pepper
3 tablespoons butter (for frying)
Sift flour and mix with salt, butter and eggs. Add warm milk to make a soft dough. Roll out dough on floured surface. Roll to about 1/8-inch thickness. Cut in 2-inch squares. Put 1 teaspoon filling on each. Fold in half to make a triangle. Pinch edges. Drop into boiling water until they float. Drain. Fry briefly in the butter.
Source: www.recipezaar.com
Cabbage-filled pierogies
Dough:
2 eggs
1/2 cup water
2 cup flour
1/2 teaspoon salt
Pepper to taste
Filling:
1 head cabbage
7 (10-ounce) cans sauerkraut
1 small onion
1 clove of garlic
10 tablespoons butter
Salt and pepper to taste
Mound flour on kneading board and make hole in center. Drop eggs into hole and cut into flour with a knife. Add salt and water and knead until firm. Let rest for 10 minutes, covered with a warm bowl.
Divide dough in halves and roll thin. Cut circles with a large biscuit cutter.
Parboil cabbage in boiling water for 10 to 15 minutes. Rinse, drain, cool and thoroughly wring moisture from cabbage and sauerkraut; set aside. The drier the cabbage and sauerkraut, the less time required to complete cooking. Saute onion and garlic in 2 tablespoons butter. Add cabbage and sauerkraut and remainder of butter; cook for approximately half an hour or until cabbage is soft and mixture is reasonably dry. It is important that the mixture not be too moist in order to prevent wetting dough during the filling process. Wet dough will cause pierogi to break open during cooking.
Allow mixture to stand in refrigerator (in covered bowl) for 24 hours prior to filling pierogi dough.
Place a small mound of filling a little to one side on each round of dough. Moisten edge with a little water, fold over and press edges firmly together. Be sure they are well-sealed to prevent the filling from running out. Drop the pierogi into salted boiling water. Cook gently for three to five minutes. Lift out of water carefully with a perforated spoon. The dough has a tendency to dry while you are working. A dry dough will not seal completely. We suggest rolling out a large circle of dough, placing small mounds of filling far enough apart to allow for cutting, and folding the dough over the mounds of filling. Then cut with a small biscuit cutter and seal firmly. Never crowd or pile pierogi. The uncooked will stick and the cooked will lose shape and lightness.
Source: www.newpoland.com
Polish Pierogies with Beef Filling
Dough:
1 pint sour cream
5 cups flour
2 tablespoons melted butter
2 whole eggs
1 egg yolk
2 teaspoons salt
2 teaspoons olive oil
Filling:
1/2 pound ground beef
Salt
Freshly ground black pepper
1/2 pound soft farmers cheese
2 tablespoons minced shallots
2 tablespoons minced garlic
1/2 cup green onions, chopped
1 whole egg
To finish:
4 tablespoons butter
1 tablespoon finely chopped fresh parsley leaves
1/2 cup sour cream
For the dough: In a large mixing bowl, combine the sour cream, flour, butter, 2 whole eggs, egg yolk, 2 teaspoons salt and olive oil. Knead the mixture into a soft dough. Divide the dough in half and cover for 10 minutes.
On a floured surface, roll each half of the dough into a thin circle, 1/4-inch thick. Cut the dough using a 3-inch circle cutter.
For the filling: Season the beef with salt and pepper. In a saute pan, render the ground beef for three minutes. Remove from the pan and drain on a paper-lined plate. In a mixing bowl, combine the cheese, ground beef, shallots, garlic, green onion and egg. Mix well. Season with salt and pepper.
Place 1 tablespoon of the filling in the center of each circle of dough and fold over. Press and seal into half-moon shapes. Use a little water to seal the pierogies. In a pot of boiling, salted water, cook the pierogi for eight minutes, or until they float. Remove from the water and drain.
In a saute pan, melt 2 tablespoons of the butter. Sear the pierogi for two to three minutes on each side, or until they are golden brown. Remove from the pan. The pierogi will need to be sauteed in batches. Arrange the pierogies on a platter. Garnish with parsley and serve with sour cream.
Source: www.foodnetwork.com
Copyright 2018 The Lawrence Journal-World. All rights reserved. This material may not be published, broadcast, rewritten or redistributed. We strive to uphold our values for every story published.