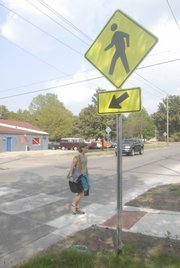 -->
There's a new HAWK in town.
New York School and other East Lawrence residents are using a HAWK - a high-intensity, activated crosswalk - to navigate a busy portion of 11th Street.
"There's quite a bit of traffic, and a large percentage of it is truck traffic, so it can be hard to cross safely," said David Woosley, the city's traffic engineer.
That's why neighborhood and city leaders went looking for an outside-the-box solution. What they came up with was the HAWK, a new type of pedestrian crossing system that federal regulators are allowing cities to experiment with.
Lawrence's is along 11th Street between New York and New Jersey streets.
Here's how it works: Pedestrians push a button when they are ready to cross the street, but instead of the button being connected to a normal traffic signal, it is connected to an inverted triangle of lights consisting of two reds and one yellow. Unless the button is pushed, none of the lights is on. Once the button is pushed, the yellow light begins blinking and then turns to a steady yellow.
Then, the two red lights come on. It is during that time that pedestrians are directed to cross the street. After a few seconds, the red lights begin flashing red. At that point, motorists are allowed to drive through the crosswalk, as long as no one is still using it.
Woosley said that's the big advantage of the new system versus a traditional traffic signal.
"This way, if someone gets across the street real fast, the traffic can go ahead and move again," Woosley said. "At a regular intersection, motorists might have to wait 20 seconds for the light to turn, even though there is no one coming."
Neighborhood leaders are pleased with the system, which Woosley said cost about $15,000 to build.
Nancy DeGarmo, principal of New York School, said the busy street - a frequent route for sanitation trucks and other city vehicles going to the city garage - for years had been a concern of the East Lawrence Neighborhood Association and the school's Parent-Teacher Organization.
The one concern with the new system, DeGarmo said, was whether students would walk to the midblock crossing, or continue to cross at the corner locations. City leaders did not put the crossing at a corner because it would have required signals for all four directions of the intersection, which would have increased costs significantly.
DeGarmo said parents and teachers were stressing the importance of using the new crosswalk.
"We have to show them that is the expectation of how to safely cross the street," DeGarmo said.
On Tuesday, there was still some work to be done on that front. During a 15-minute time period following New York's dismissal, several students continued to cross at corners, while only one used the midblock crossing.
Eleanor Daniels, who used the new crossing, said she was thankful for it.
"At least we have something now," Daniels said.
Copyright 2018 The Lawrence Journal-World. All rights reserved. This material may not be published, broadcast, rewritten or redistributed. We strive to uphold our values for every story published.