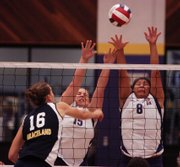 It was a rough outing for the Haskell Indian Nations University volleyball against Graceland University on Tuesday at Coffin Sports Complex.
The Yellow Jackets dominated the net and swept the Indians, 3-0 (30-24, 30-22, 30-24).
"I don't know what the deal was," freshman Holly Tanner said. "We were just asleep out there, I guess. You can't say much more about it. We are improving and moving on, but every team has their slow games and whatnot. That's what happened here."
Graceland nearly doubled HINU's kill total in the three-game match. The Yellow Jackets finished with 49 kills, while the Indians mustered just 26.
Tanner led the Haskell squad with 10 kills, while fellow freshman Takara Bighorse had eight.
"Holly Tanner always does a good job," Haskell coach Melissa Peterson said. "She's a mature young lady, and that shows on the court."
HINU hit its stride in the final game of the match. After falling behind 11-5 in the early going, the Indians went on an 11-3 run to take a two-point lead half-way through.
"Any game, it's going to flux back-and-forth, and I guess tonight the momentum wasn't there to keep going," Tanner said. "But we definitely have it in us, always."
Haskell, however, won only eight of the final 24 points in Game 3.
"I think those six points that they did catch up on, that really gives them a push," Peterson said. "And they should know now that they can be better, and they can be better than other teams even though we don't have the best athletes."
Haskell will play host to a triangular with Friends University and Missouri Valley on Saturday at Coffin Sports Complex.
Copyright 2018 The Lawrence Journal-World. All rights reserved. This material may not be published, broadcast, rewritten or redistributed. We strive to uphold our values for every story published.