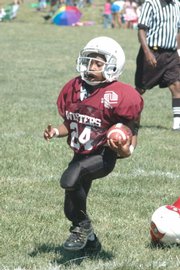 With the start of the Lawrence Youth Football season less than a week away, a few of its teams took to the field a little early.
The fourth-grade Lawrence Twisters and fifth- and sixth-grade Hurricanes took part in the National Youth Sports Sanctioning Organization Tournament of Champions over the weekend at Youth Sports Inc.
The sixth-grade Hurricanes, who play predominately in tournaments, took home their second consecutive title with a 36-6 win over the Topeka Bears on Sunday. The Bears were the only team to score against the Hurricanes as the Lawrence team outscored its opponents 76-0 in its first two games.
The title was the second straight NYSSO championship for the Hurricanes. In early August the team captured the Kickoff Classic at the Field of Dreams in Basehor.
The fifth-grade Hurricanes fought their way to Sunday's championship game, but didn't fare as well as their sixth-grade counterparts. The fifth graders fell to the Oklahoma City Vikings, 28-0. Prior to the title game, the fifth-grade Hurricanes posted an 8-0 shutout over the Topeka Crush.
The fourth-grade Twisters took the opposite approach in their pair of tournament games.
Saturday the Twisters fell to Jenks Silver, 26-0, but rebounded to exact the same sort of punishment on The Topeka Buccaneers on Sunday.
The Twisters put Sunday's game away with a 20-point first half on their way to a 36-0 victory. The win secured third place for the Twisters.
For the rest of the LYF teams, the season begins on Sunday with games taking place at Youth Sports Inc.
Copyright 2018 The Lawrence Journal-World. All rights reserved. This material may not be published, broadcast, rewritten or redistributed. We strive to uphold our values for every story published.