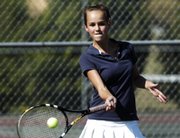 On a day Seabury Academy's tennis team played Lawrence High's junior varsity, the Seahawks had a few junior high girls in the lineup as well.
Seventh-grader Padget Sutherland received an opportunity to compete against high schoolers Friday at Lawrence Tennis Center, taking over for senior Gabrielle Dillon, who was out because of an arm injury.
The seventh-grader teamed up with older sister Brooke Sutherland, a senior at Seabury, to compete in the No. 1 doubles match.
The sisters swept the Lions' Shauna Belles and Hannah Thiam, 8-0.
"I like playing with my sister a lot - we're a good team," Padget said. "We help each other out, and when we do something wrong, it's not a big deal. We just keep going. It's just nice playing with my sister."
Padget then faced off with the Lions' No. 2 singles player, Julia Harris, and claimed an 8-6 victory for a sweep of her first two matches against high school competition.
"I was a little nervous when I first started playing because she was really good," Padget said. "But I just tried my hardest. And at the end, I think it was like 7-2, and she started coming back, so it was hard."
Brooke, however, wasn't going to be upstaged by the younger Sutherland sister. The senior Sutherland defeated Lawrence's Jordan Payne at No. 1 singles, 8-2.
"She (Payne) was a really good player and hit the ball really well," Brooke said. "I mostly just tried to hit with lots of topspin and drop the ball in. My shots were a little shaky, but with a lot of topspin it worked out pretty well."
Since the match was against a junior varsity squad, an overall score wasn't kept and will not factor into Seabury's season record, which is currently 1-0.
"Anytime that you're able to come out and play matches and compete, you're going to get better, no matter who you're playing," first-year Seabury coach Scott Elwell said. "I think for these girls to get the opportunity to play Lawrence High, one of the biggest schools in Lawrence, is obviously a great chance for the girls to show that they're here. If they pick up a win, hopefully they can build the program up enough to maybe play Lawrence High's varsity and keep building from there."
The Seahawks will return to the courts Friday with a home match against Kansas City Christian.
Copyright 2018 The Lawrence Journal-World. All rights reserved. This material may not be published, broadcast, rewritten or redistributed. We strive to uphold our values for every story published.