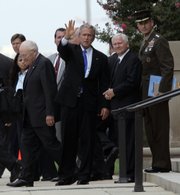 Washington — At a key juncture in the Iraq war, the military chiefs conveyed to President Bush on Friday their concern about a growing strain on troops and their families from long and repeated combat tours.
Bush met privately at the Pentagon with the Joint Chiefs of Staff and Defense Secretary Robert Gates in preparation for decisions about how long to sustain the U.S. troop buildup in Iraq, whether to change course this fall and how to save the health of a heavily stressed Army and Marine Corps.
Indications are that Bush intends to stick with his current approach, at least into 2008, despite persistent pressure from the Democrat-led Congress - including some prominent Republicans - to find a new course.
Still to be heard is the long-awaited assessment of Gen. David Petraeus, Bush's choice to execute the new strategy he announced in January to improve security in Baghdad.
Petraeus did not participate in Friday's session but one U.S. senior official said the general, along with Ryan Crocker, U.S. Ambassador to Iraq, would likely tell Bush and Congress in mid-September that the buildup had succeeded in making slow but sure progress on both the military and political fronts.
Petraeus and Crocker also will argue for a continuation of the current policy with some adjustments, said the official, speaking on condition of anonymity because he was discussing internal deliberations.
Bush's critics point to mounting evidence that while the troop buildup may have halted the escalation of sectarian violence in Baghdad, the Iraqis are making almost no headway toward political reconciliation.
There are no signs that the Pentagon's top generals and admirals are pushing for an early end to the war, but they are concerned not only about strains on troops but also about the possibility that the heavy focus on counterinsurgency warfare in Iraq leaves the military ill-prepared in the event of a crisis elsewhere.
"The stakes in Iraq are too high and the consequences too grave for our security here at home to allow politics to harm the mission of our men and women in uniform," the president said in the statement. "It is my hope that we can put partisanship and politics behind us and commit to a common vision that will provide our troops what they need to succeed and secure our vital national interests in Iraq and around the world."
Bush has said he will base his decisions in large measure on Petraeus' assessment of how the strategy is working, how much longer he needs the extra troop strength and when Iraqi forces will be ready.
Copyright 2018 The Associated Press. All rights reserved. This material may not be published, broadcast, rewritten or redistributed. We strive to uphold our values for every story published.