Blame it on inexperience, offset by a wicked combination of being fast and fearless.
But Kansas University junior Marcus Herford had a predictable pattern when returning kickoffs last season: He'd catch, accelerate, find the hole and shoot through it like a bullet out of a revolver. After picking up good yardage going relatively straight, he often would get blindsided and flail to the turf, a crash-landing finish to an accomplished mission.
It lacked the razzle-dazzle juking, but Herford's way certainly worked. He averaged 26.1 yards per return, third in the Big 12 Conference. He had an 88-yard return in the 2006 season opener and eventually set a school record with 757 return yards on the year.
"He looks strong and runs hard," special-teams coordinator Louie Matsakis said. "That's what you need in a kickoff returner."
Herford, though, will be the first to admit that there's much more to be tapped. A year of seasoning, which includes gaining comfort, intelligence and a little flair - all packaged with an inevitable increase in opportunities - has Herford believing he can one-up himself this time around.
He might get his first chance as soon as the clock starts in today's season opener against Central Michigan. His teammates have similar aspirations, but depending on the coin flip, Herford might be the first to show the world just what an offseason of hard work can do for a player.
"I've got a year under my belt, and I have all my blockers back," Herford said. "That's going to make a big difference with the new rule."
Not the same
Ah, yes - the new rule. With kickoffs from the 35-yard line constantly soaring into the end zone in recent years, stopping play and substituting a potentially exciting return for a boring touchback, the NCAA made what could be a significant change to the college game.
"Unless relocated by a penalty," the new rule reads, "the kicking team's restraining line on a kickoff shall be its 30-yard line."
That means a five-yard head start for the return team, fewer touchbacks and a likelihood of better field position for the offense. That could lead to more points.
Herford heard about the new rule right away and immediately knew a lot more was going to be asked of him in 2007.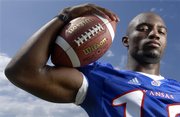 "Before, he got the ball a couple yards deep in the end zone, and if he didn't feel comfortable, he could just take a knee," Matsakis said. "Now, I would guess without knowing, you go through the course of the season, probably 90 percent of the kickoffs he'll have to return. Before, he may go a game without ever returning a kickoff."
Case in point: A game between Kansas and Texas Tech in 2005 featured touchbacks on nine of the 11 kickoffs booted by Tech's Alex Trlica and KU's Scott Webb, now two of the top kickers in the conference.
That's a thing of the past, and Herford is well aware.
"I don't see it as more highlights," Herford said. "I look at it as another opportunity to help my team get great field position."
Time to bloom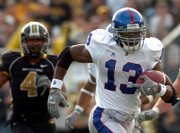 Herford considers himself a cut-to-the-chase runner, and he doesn't want to lose what worked for him last year.
But Matsakis, KU's newest assistant coach whose specialty is special teams, has worked with Herford to see if even more can get added to his arsenal.
"We're working a lot more on his open-field running skills," Matsakis said. "Being able to see the whole field.
"It's a little different than a punt returner. As a punt returner, you usually block everyone except the punter. On most kickoff returns, there's usually one or two out of 10 who you don't block. There's three open guys, and he has to have more field awareness of that."
Matsakis has seen firsthand what a solid return specialist can do - while an intern at Texas Tech, he helped mold Wes Welker into an NFL talent. Welker is now a return specialist and part-time wide receiver for the New England Patriots.
Though more polishing is needed, Matsakis likes Herford's attributes - specifically the ones that can't be taught.
"He's very fearless, and he's one of the fastest guys on the team," Matsakis said. "A year ago, he'd see the hole, get there fast and run through it and then all the sudden, boom, he got blindsided.
"You've just got to trust that the crease will open and the other 10 guys will do their job and hit it full speed with no doubt."
That was Herford's specialty last season. But it's the next step that he has been hard at work at.
With the NCAA rules tilting the pressure toward him, Herford knows it's time to bloom as a return specialist.
And perhaps, starting with the very first play of today's game, he's fully expecting to come through for Kansas.
"I'm going to try to add some more to my game," Herford said. "I'm hungry to get to the end zone. I want to score."
Copyright 2018 The Lawrence Journal-World. All rights reserved. This material may not be published, broadcast, rewritten or redistributed. We strive to uphold our values for every story published.