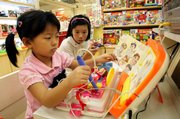 Beijing — China's first nationwide recall systems for unsafe food and toys came into effect Friday in one of the strongest steps taken by Beijing to clean up the country's scandal-hit manufacturing industry.
China, a major global supplier, has been facing growing international pressure to improve the quality of its exports after dangerous toxins - from lead to an antifreeze ingredient - were found in goods including toys and toothpaste.
At home, scares have centered around fake milk powder that led to the deaths of at least a dozen babies and the use of the banned cancer-causing industrial dye, Sudan Red, to color egg yolks.
The recall systems, put in place by the General Administration of Quality Supervision, Inspection, and Quarantine, follow an earlier system set up for defective cars in 2005.
They require manufacturers to stop production and sales, notify vendors and customers, and report to quality control authorities when defects are found.
The administration oversees all products made in China and the measure appears to be targeted at goods manufactured for both domestic and global consumption.
The administration said food producers should voluntarily recall any potentially harmful products and investigate immediately. It will force a recall and issue a consumer alert if manufacturers fail to take actions or if a food safety incident occurs, the administration said.
The toy recall system requires producers to stop making and selling toys that are confirmed to have problems, even if the products are made in accordance with Chinese laws and standards, the agency said.
It will "provide a powerful legal weapon for protection of children's health and life safety," the administration said.
While authorities were initially reluctant to address the issue, the government has launched several sweeping measures in recent weeks focused on cleaning up shoddy manufacturing practices and cracking down on illegal businesses at the heart of recent safety scandals.
Chinese-made toys came under new scrutiny this summer after a series of high-profile recalls by Mattel Inc., the world's largest toy maker.
Copyright 2018 The Associated Press. All rights reserved. This material may not be published, broadcast, rewritten or redistributed. We strive to uphold our values for every story published.