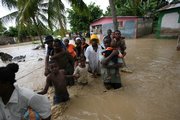 Santo Domingo, Dominican Republic — Tropical Storm Noel brought heavy rain to the western Caribbean on Tuesday as it pushed through Cuba and edged closer to Florida. Floods and mudslides across the region have killed at least 22 people.
Forecasters projected the storm would emerge over water today near central Cuba and head northeast toward the Bahamas. Residents of southeastern Florida were advised to monitor the progress of Noel, which could pass close to the state over the next few days.
Warnings were in effect for rough surf for much of South Florida, including the Miami area, as waves were already pounding the region's beaches. Swimmers are advised to stay out of the ocean because of the risk of rip currents and waves higher than 10 feet. But forecasters said the rains would likely miss drought-stricken Georgia, Alabama and other southeastern states.
The storm cut a destructive path across the island of Hispaniola, which is shared by Haiti and the Dominican Republic.
Because of difficulties reaching remote areas of Hispaniola, there was uncertainty over death toll figures, with emergency officials reporting between 22 and 36 people dead.
Tuesday evening, a Dominican emergency commission spokesman revised the death toll in the country upward to at least 30. The official, Luis Luna Paulino, did not release specifics of the deaths, and earlier in the day he acknowledged miscalculating a previous toll.
Almost 12,000 people were driven from their homes and nearly 3,000 homes were destroyed, while collapsed bridges and swollen rivers have isolated 36 towns, Luna said.
"The rains continue to fall and we fear for several families," said Sergio Vargas, a merengue star and Dominican congressman who represents Villa Altagracia, a small town north of the capital, Santo Domingo.
In neighboring Haiti, at least six people died, including two women washed away by a river in the town of Gantier, said U.N. peacekeeping mission spokesman Mamadou Bah. Red Cross volunteers said a 3-year-old boy drowned as his family tried to rescue him from a raging river in the neighborhood of Duvivier.
Noel's outer bands were pounding the two countries Tuesday evening even as the center of the sluggish storm chugged away from Hispaniola, where damages by flash flooding are exacerbated by erosion and stripped hillsides.
In the Haitian capital, Port-au-Prince, thousands slogged through waist-high water that turned streets into brown rivers, carrying their last remaining possessions as they fled deluged shacks and makeshift homes.
Refugees were brought by the truckload to the dense seaside slum of Cite Soleil, where they were packed into two schools and given food by volunteers.
Copyright 2017 The Associated Press. All rights reserved. This material may not be published, broadcast, rewritten or redistributed. We strive to uphold our values for every story published.