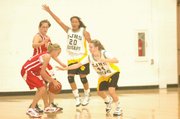 The South Junior High eighth-grade girls basketball team made its home debut against Topeka Logan on Monday at Lawrence High's West Gymnasium.
Although things went well for the Cougars, they didn't go well enough, as the visitors escaped with a 24-22 victory.
After falling to Washburn Rural on Monday, South (0-2) hung with Logan the entire game, but a 6-4 lead by the visitors set the stage for the remainder of the game. South matched Logan in scoring in the second quarter, but went into the locker room down 10-8.
That trend continued throughout the third, as the Cougars scored eight points, but went into the fourth quarter down 18-16.
The combination of Brianna Anglin and Christina Haswood kept the Cougars within striking distance through three quarters and into the fourth.
Logan built its biggest lead at 24-20 as the clock went under a minute, but South's Kara Easum answered with a short jumper with 10 seconds to go, pulling the Cougars within a pair.
The Cougars had one last shot to tie as two free-throw attempts by the visitors failed. With less than a second to play, a lob pass attempt from Tanner Howard to Haswood never made it past mid-court, giving Logan the victory.
The Cougars' featured a three-pronged attack on offense as Haswood, Anglin and Easum accounted for all of South's scoring. Haswood finished with eight points, Easum with four, and Anglin led the team with 10.
The Cougars travel to Central for a 3:45 p.m. tipoff on Thursday.
Copyright 2018 The Lawrence Journal-World. All rights reserved. This material may not be published, broadcast, rewritten or redistributed. We strive to uphold our values for every story published.