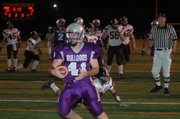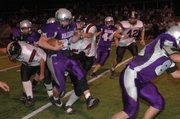 Baldwin City — After throwing three touchdowns a week ago, Baldwin High's football offense got back on track Tuesday night.
The Bulldogs (8-2) racked up 515 yards of offense and rushed for six scores in their 41-7 victory over Kansas City Ward.
"That was the goal," Baldwin coach Mike Berg said. "We have to get the ball going on the ground. We didn't have a rushing touchdown last week, so that was our goal tonight. We were able to accomplish that."
BHS threw a trio of touchdowns Thursday in its 20-19 victory over Eudora to win the district crown.
Tuesday's victory gave BHS the bi-district championship and kept its season alive.
BHS senior Gabe Mason was almost speechless after the victory.
"I am so happy that we made it this far, but we have to keep going," Mason said. "It's so amazing. I just can't explain it."
Mason led the way for BHS, scoring three touchdowns. As a team, Baldwin rushed for 476 yards, as its trio of running backs continued to produce.
Mason rushed for touchdowns of one, three and 60 yards. His longest run came in the fourth quarter. He broke through the line and outran the Ward secondary en route to the end zone.
"I was determined enough to get it in," Mason said. "I had some great blocks up front to help me. I wasn't going to get caught from behind."
Senior Jared Hall scored twice, and junior Sam Beecher tallied the other touchdown.
Baldwin's rushing attack jumped on Cyclones early. BHS scored on its first possession and nearly scored on the next one until it was stopped at the one-yard line.
The Bulldogs bounced back by scoring on its final two possessions of the first half to take a 21-0 lead into the break. The Bulldogs continued to pour it on in the second half as they cruised to the blowout victory.
"This is a great win for us," Berg said. "Playing in front of this home crowd is something special for these seniors. This was a special night."
Baldwin will next play in the Class 4A regional round. The game is scheduled for 7 p.m. Saturday in Marysville.
Copyright 2018 The Lawrence Journal-World. All rights reserved. This material may not be published, broadcast, rewritten or redistributed. We strive to uphold our values for every story published.