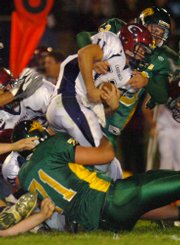 Basehor — On a windy Tuesday night, the Basehor-Linwood High football team, led by senior running back Tyler Miles, overcame a late deficit and advanced to the second round of the Class 4A football playoffs with a 13-8 victory over Eudora.
Miles finished the night with 29 rushes for 171 yards, compiling 137 of those yards in the second half.
"Tyler Miles, oh my goodness," Basehor coach Steve Hopkins said. "He was frustrated Thursday because he got beat up a little bit, and I held him out the second half. I told him, 'You must hold the ball and run through tackles.' That's the weight room. He's a great, tough runner."
No turnovers and a sound running defense set the tone for the 5-5 Bobcats' upset of Eudora, which ended its season at 8-2.
"Our whole function, goal, was to make them one dimensional and force them to throw the football. They got us on one nice little fullback trap, but our defense lit them up, a great job," Hopkins said.
The defense allowed 56 yards in the first half, all coming on the run. Eudora gained 189 yards of total offense. All but 15 were gained on the ground.
"We just wanted it more than them," Miles said. "Our line dominated, and we wanted the win more."
On Basehor's opening drive, it set the tone with seven straight rushes, six from Miles. He ran it in from the one-yard line with 7:29 to play in the first quarter for the early lead.
The score didn't change again until the third quarter, when at the 8:13 mark Eudora quarterback Matthew Abel threw an interception to the Basehor one-yard line. Two plays later, Eudora managed a safety to draw within five.
Abel gave the Cardinals the lead with 6:23 to play in the fourth quarter on a 16-yard run.
After that, it was all Miles, as he took a sweep around the right side and rumbled 43 yards to the Eudora 22-yard line.
Three plays later, Miles took another handoff off tackle and ran it on in from 12 yards out.
"When we were down, we never once doubted that we'd score again. We just had to go hit them in the mouth and get back in for a score," Basehor-Linwood offensive lineman Swede Johnson said.
Next up for the Bobcats is another tough test. They will travel to 9-1 Holton on Saturday.
Copyright 2018 The Lawrence Journal-World. All rights reserved. This material may not be published, broadcast, rewritten or redistributed. We strive to uphold our values for every story published.