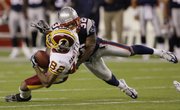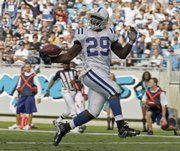 Foxborough, Mass. — The Patriots rolled up their highest point total in 28 years, and Tom Brady threw his career-high 30th touchdown pass.
Pretty impressive, and there's still half a season to go.
New England's amazing year kept getting better Sunday with a 52-7 rout of Washington. The Redskins entered with the fifth-ranked defense in the NFL and left with the franchise's worst loss since 1961.
"I don't know of a weakness that they have," Washington coach Joe Gibbs said.
Brady threw for three touchdowns and ran for two more. Linebacker Mike Vrabel caught a touchdown pass and forced three fumbles by quarterback Jason Campbell that led to 17 points.
The Patriots (8-0) have scored at least 34 points in each game and have won each by 17 points or more.
Now the first half of the season is over. Bring on the Super Bowl champs, the Colts (7-0), whose winning margin is a mere 32 to 14.6.
The Patriots will play Sunday at Indianapolis, where they had their last loss, more than nine months ago in the AFC championship game.
Let the hype begin.
"You've got to block out the noise," Patriots defensive end Ty Warren said. "If you start reading too much into what's going on out there outside this locker room, I think the battle's already lost."
Colts 31, Panthers 7
Charlotte, N.C. - A slow start and a short week couldn't stop Peyton Manning and the Colts from another 7-0 start.
Manning threw for 254 yards and two touchdowns and broke Johnny Unitas' team record for career scoring passes as the Colts dominated the second half.
Joseph Addai rushed for 100 yards and two touchdowns and caught a TD pass from Manning, who was outplayed early by 43-year-old Vinny Testaverde. But when Testaverde was lost at halftime due to an ankle injury, the defense shut down David Carr the rest of the way as the Colts became the first team since the 1929-31 Green Bay Packers to win the first seven games three straight seasons.
Steelers 24, Bengals 13
Cincinnati - With a chance to make a statement, the Bengals backed down and went for a field goal.
Hines Ward caught a pair of touchdown passes, and the Steelers turned Marvin Lewis' conservative coaching decision into a pivotal moment for their seventh straight victory in Cincinnati.
From the top down, it was another case of down-the-river domination.
Giants 13, Dolphins 10
Wembley, England - The NFL's first regular-season trip overseas was every bit as sloppy as it was predictable.
Eli Manning threw for only 59 yards but ran for New York's lone touchdown to lift the Giants to a mud-caked victory over the winless Dolphins.
The Giants allowed only 254 yards and held the Dolphins out of the end zone for the first 58 minutes for a victory that only the winners could view as anything remotely beautiful.
Miami fell to 0-8 and kept 0-16 very much in play for the season on this, the 35th anniversary of their perfect, 17-0 season in 1972.
Lions 16, Bears 7
Chicago - Jon Kitna passed for 268 yards, Kevin Jones ran for 105 yards and a touchdown, and the Lions showed they're serious contenders in the NFC.
Detroit is 5-2 for the first time since 2000 and making a strong bid for its first playoff appearance since 1999. The Lions have endured six straight seasons with at least 10 losses and won just three games last year, coach Rod Marinelli's first.
Kitna completed 24 of 35 without an interception. Roy Williams caught eight passes for 77 yards.
Titans 13, Raiders 9
Nashville, Tenn. - LenDale White ran for a career-high 133 yards, Rob Bironas added two field goals, and Chris Henry scored a touchdown.
The Titans, starting a three-game homestand, saw their defense carry most of the load. Tennessee came up with five sacks and two turnovers, the last an interception by Chris Hope with 2:35 left.
Vince Young survived his worst game as an NFL starter, completing only six of 14 passes for 42 yards.
Browns 27, Rams 20
St. Louis - Derek Anderson threw three touchdown passes, two to Braylon Edwards, and the Browns erased an early 14-point deficit for their first road victory.
Browns safety Sean Jones stopped Brian Leonard for no gain on fourth-and-one from the 16 in the final two minutes, and Leigh Bodden picked off Marc Bulger at the Cleveland 28 with 38 seconds left.
The long-struggling Browns matched their victory total from last season and have won consecutive games for the first time since Weeks 5 and 6 of the 2003 season, a span of 46 games.
Eagles 23, Vikings 16
Minneapolis - Donovan McNabb threw for 333 yards and a touchdown and showed plenty of the mobility he appeared to have lost after major knee surgery.
The five-time Pro Bowler looked more like the guy who led the Eagles to the Super Bowl three years ago than the tentative veteran who had been hearing calls from those notoriously restless Philly fans to start Kevin Kolb.
McNabb took advantage of the league's worst pass defense, completing 23 of 36 passes and buying plenty of time with his legs to get his Eagles on track.
Adrian Peterson gained 70 yards on 20 carries for the Vikings.
Jaguars 24, Buccaneers 23
Tampa, Fla. - Backup quarterback Quinn Gray threw an eight-yard touchdown pass to Matt Jones that put the Jaguars (5-2) ahead for good with 11:37 to go.
Gray completed seven of 16 passes for 100 yards, without an interception. One of his biggest plays came in the third quarter when he fumbled in his own end zone, but recovered and crawled out to the one-yard line to avoid a safety.
After Matt Bryant's third field goal, Gray led an eight-play, 53-yard drive that Jones finished with a one-handed catch in the corner of the end zone.
Jeff Garcia, who had not thrown an interception in Tampa Bay's first seven games, had a streak of 217 consecutive passes without a pick stopped when Aaron Glenn returned one 28 yards for a TD. Garcia finished with three interceptions.
Saints 31, 49ers 10
San Francisco - Drew Brees passed for 336 yards and hit Marques Colston with three of his four touchdown throws in the Saints' third consecutive victory.
It was the fifth straight loss for San Francisco.
Reggie Bush had 113 total yards for the Saints, who jumped to a 24-point halftime lead with a steady offensive effort including catches by nine receivers and four scoring drives longer than 72 yards. Brees was on target, going 31-of-39 and avoiding any sacks for the fourth consecutive game.
Alex Smith went 22-of-43 for 190 yards with several noticeably bad throws, and Frank Gore twisted his ankle again in the second half, finishing with just 41 yards rushing.
Chargers 35, Texans 10
San Diego - Two days after the last evacuees left Qualcomm Stadium, the tailgaters and the NFL were back.
Philip Rivers threw three touchdown passes - two to All-Pro tight end Antonio Gates - and cornerback Antonio Cromartie had a monster game for the Chargers.
Cromartie recovered a fumble for a touchdown and had two interceptions, one of which he returned 70 yards for another TD.
Houston (3-5) lost its third straight and had quarterback Matt Schaub knocked out of the game when he was hit after throwing his second interception.
Houston committed five turnovers.
Bills 13, Jets 3
East Rutherford, N.J. - J.P. Losman came on in relief of an injured Trent Edwards and connected with Lee Evans on an 85-yard touchdown pass with 3:38 remaining.
With the Bills on the Jets 15 and leading 6-3, Losman threw a long pass to Evans down the right sideline. Rookie cornerback Darrelle Revis appeared to get his hands on the ball, but Evans wrestled it away and streaked down the sideline untouched for a touchdown.
The TD was the longest, and by far the most exciting, play of an otherwise incredibly dull game.
Copyright 2018 The Associated Press. All rights reserved. This material may not be published, broadcast, rewritten or redistributed. We strive to uphold our values for every story published.