Photo Gallery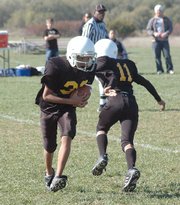 Hurricanes vs. Cougars
In the sixth-grade Toy Bowl championship game, the Hurricanes proved too much for the Cougars as three first quarter touchdowns put the game out of reach. The scores paved the way for the Hurricanes' 50-0 victory on Sunday at Youth Sports Inc.
Running back Kahdre Lane opened the scoring for the 'Canes as he took the ball 30 yards for a quick 6-0 lead. Quarterback Joe Dineen put the Hurricanes up 14-0 with a 5 yard run. Keith Lonekar finished off the first quarter scoring with a 15 yard run, giving the Hurricanes a 20-0 lead at the end of the first.
Despite the adversity the Cougars played tough and found themselves with opportunities to score. But turnovers and a stingy Hurricane defense put an end to any hopes of a Cougar comeback.
Copyright 2018 The Lawrence Journal-World. All rights reserved. This material may not be published, broadcast, rewritten or redistributed. We strive to uphold our values for every story published.