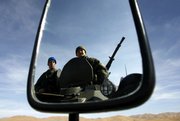 Istanbul, Turkey — Turkey cautioned Thursday that it alone would decide whether to launch a major assault into northern Iraq to crush Kurdish rebels, striking a defiant note as a high-ranking delegation arrived in Ankara and U.S. Ambassador to Iraq Ryan Crocker pleaded for a peaceful solution. "We make our own decisions. Why did the United States come to Iraq from tens of thousands of kilometers? The United States should act together with us as a strategic partner," Turkish Prime Minister Recep Tayyip Erdogan told reporters in Romania.
"Both President Abdullah Gul and I told President George Bush and U.S. Secretary of State (Condoleezza) Rice that we have to take necessary measures to counter terrorism and we are going to do so."
A high-ranking Iraqi delegation, including defense minister Abdul-Qader Mohammed Jassim Mifarji, arrived in Ankara Thursday for talks ahead of a Nov. 2 regional conference on Iraq, which both Rice and Crocker are scheduled to attend.
Officials of the semiautonomous regional government in Iraqi Kurdistan offered conciliatory words Thursday for Turkey over its battle with the rebel Kurdistan Workers Party (PKK), looking for ways out of the crisis with as many as 100,000 Turkish troops positioned on their border. Last week the Turkish parliament granted the government the authority to launch an incursion.
"The PKK is an illegitimate and illegal organization to the Kurdistan Regional Government," said Jamal Abdullah, a regional government spokesman. "We haven't helped them with any aggressive activities launched from inside our territory against any neighboring countries."
Crocker said an American team had arrived in Ankara to help mediate.
"Decisions on where to go from here have to be very carefully taken, consequences have to be weighed. In particular, we have cautioned that military actions across the border could be dangerously destabilizing to the detriment of all our interests," Crocker told reporters in Baghdad.
Crocker said the Iraqi government should cut off access to the rugged Qandil mountain range, which borders Iraq, Iran and Turkey; monitor all traffic to the region, and create a "lookout list" of PKK leaders.
"Folks heading up that way need to be stopped. Folks coming down need to be picked up to do everything possible to interdict resupply, " he said.
Copyright 2018 The Lawrence Journal-World. All rights reserved. This material may not be published, broadcast, rewritten or redistributed. We strive to uphold our values for every story published.