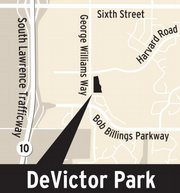 West Lawrence residents now have a new place to hike and jog. The Lawrence Parks and Recreation Department will dedicate DeVictor Park at 4 p.m. today, but the open space and trail is already getting plenty of use.
"The best thing is to see it being used so regularly," said Paula Pepin, a member of the West Lawrence Neighborhood Association. "It's very exciting to have a place for kids to go and families to go."
Before the development of DeVictor Park - near George Williams Way and Harvard Road - the closest park for Pepin and other area residents was 2 miles away at Dad Perry Park on Monterey Way. Now they have a nearby open field and "outdoor classroom," designed by Kansas University architecture students, using a 2.5-mile trail that circles the neighborhood.
"I was really noticing when we first moved here that we didn't really have any park space out here where we live, so it's really nice to have a place that's in walking distance," said Susan Chi of the neighborhood association.
The park is named for Fred DeVictor, who retired as director of Parks and Recreation in March after 37 years with the department. During his tenure, the department grew from 12 to 52 parks and open-space areas.
"That is a great legacy to him to have a park after 37 years named after him," said Ernie Shaw, interim director of the Lawrence Parks and Recreation Department.
Shaw said the new park tries to create a place for nature in an urbanizing part of the city.
"It's a very peaceful place in the midst of George Williams Way, Langston Hughes School and all the housing that is close to it, but the way it's cut into the landscape, it's a very peaceful area," he said.
The city spent $170,000 on the first phase of construction. In future phases, parks officials plan to pave more of the trail and add playground equipment to the park.
"It'll just be a jewel for our area in west Lawrence," Pepin said.
Copyright 2018 The Lawrence Journal-World. All rights reserved. This material may not be published, broadcast, rewritten or redistributed. We strive to uphold our values for every story published.