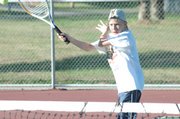 After the Lawrence Tennis Association's summer junior league wrapped up, many of the players and instructors faced a bit of a problem: There was nothing to do.
With no other leagues in session and many other sports beckoning for youngsters' participation, there seemed to be only one alternative: organize a junior tennis tournament and keep practicing through the fall.
The approach may seem simple, but in a climate where tennis isn't at the forefront of youth sports, the organization of this weekend's tournament at Minor Park in Kansas City, Mo., was essential.
"We organized this tournament to keep them practicing," Kirsty Elliott, LTA coach, said. "When the summer league ended, we had to find a way to keep the tennis spirit alive. So this tournament is a way to get them to keep playing and give them something to practice for."
This weekend's tournament - organized through the LTA and Heart of America Tennis Association - will feature 10 teams from around the area and will be a test to see how the fall practices have benefited the Lawrence players who braved October's wet and chilly weather.
"It's helped a lot," Haley Ryan, 11, said. "I have improved my serving with more top-spin."
Ryan has participated in tournaments before and said the competitive environment and extra practice will help keep her focused this weekend.
Ryan's teammate Magan Workman has no competitive experience, but said the practices helped her with a number of elements that she will get to show this weekend in Kansas City.
If the tournament and fall practice have served their purpose, then Elliott hopes to keep the tennis spirit alive as winter descends by moving her players indoors.
Wherever they play, the idea behind junior tennis will remain the same.
"The objective is always going to be to keep them learning," Elliott said. "And hopefully after this tournament we can keep them playing."
Copyright 2018 The Lawrence Journal-World. All rights reserved. This material may not be published, broadcast, rewritten or redistributed. We strive to uphold our values for every story published.