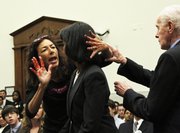 Washington — Secretary of State Condoleezza Rice said Wednesday that a "two-state solution" in the Middle East was in jeopardy and described a narrow window of opportunity to push Israel and the Palestinians toward peace.
In a House hearing interrupted by anti-war protesters, Rice said an upcoming peace conference in Annapolis, Md., is needed to give hope to moderate Palestinian forces. She blamed Iran for fanning flames in the region, including what she called "troubling" new support for Hamas militants.
"Our concern is growing that without a serious political prospect for the Palestinians that gives to moderate leaders a horizon that they can show to their people that indeed there is a two-state solution that is possible, we will lose the window for a two-state solution," Rice said.
Rice's testimony was punctuated by Iraq war protesters. As Rice entered the hearing room, one woman rushed toward her and waved her hands - painted blood red - in front of the secretary's face. The protester shouted that Rice was a "war criminal" and should be taken to The Hague, home of an international war crimes tribunal.
Rice was stoic and continued with her business as the protester was removed. Others were likewise escorted away at the behest of Rep. Tom Lantos, chairman of the House Foreign Affairs Committee.
On other issues, Rice:
¢ said the Iraqis are taking steps to crack down on rebels of the Kurdistan Workers' Party who are fighting the Turks. The U.S. has told Turkey that retaliatory attacks would have a "destabilizing effect," she said.
¢ cited delicate relations with Turkey as she urged lawmakers against moving ahead with a nonbinding resolution that would label as genocide the killings of Armenians by Ottoman Turks a century ago. "This is something that was a horrible event, in the mass killings that took place, but at the time of the Ottoman Empire. These are not the Ottomans," she said of Turkey's current leaders.
¢ said the U.S. Embassy in Iraq will be completed within budget, at a cost of $592 million, and that construction delays were being addressed. She declined to estimate when it would be finished.
Copyright 2018 The Associated Press. All rights reserved. This material may not be published, broadcast, rewritten or redistributed. We strive to uphold our values for every story published.