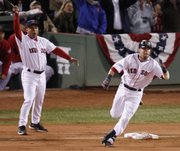 Boston — It started with a bang. There weren't any whimpers.
Dustin Pedroia homered to lead off the World Series for the Red Sox, and Boston kept on scoring ... and scoring ... and scoring, pummeling the Rockies with 17 hits Wednesday night to beat Colorado, 13-1, in Game 1 of the best-of-seven series.
"They beat us pretty good tonight. No way around that," said Rockies first baseman Todd Helton, who confessed he lost track of all the scoring. "We didn't play very well, but they (did). They came out and swung the bats and put a good old-fashioned beating on us."
The Red Sox had a World Series-record-tying eight doubles, pinging them off the Green Monster like it was a racquetball game. Eleven of their runs came with two outs. They had eight walks, including three in a row with the bases loaded when Boston blew the game open in the seven-run fifth.
"Offensively, the whole night we did a good job," Red Sox manager Terry Francona said. "Even a couple innings when we got a couple outs, we didn't let them off the hook."
David Ortiz, Manny Ramirez and Julio Lugo had three hits apiece. Everybody had at least one, except rookie Jacoby Ellsbury, who reached on a fielder's choice and forced a balk, then later in the same inning drew a bases-loaded walk.
Everyone in the lineup had an RBI, too, except for Mike Lowell, who led the team with 120 in the regular season.
Not until LaTroy Hawkins retired the Red Sox in order in their final turn at-bat did a Rockies pitcher manage a 1-2-3 inning.
"Offensively, they have a lot of options," Rockies manager Clint Hurdle said. "You pick your shots, when to take them. We went after Manny and that didn't work. We passed on Lowell - he had 120 RBIs this year. You keep pitching with men on base and you're barking up the wrong tree. We made some decisions that didn't work out."
The Red Sox outscored Cleveland 30-5 in the last three games of the AL championship series to rally from a 3-1 deficit and advance to their second World Series in four years.
Turns out, they were just taking it easy on the Indians.
Pedroia, who drove in five runs in the ALCS clincher, homered on Jeff Francis' second pitch to start a three-run first inning.
"When he got that hit and got this offense going, that was one of the keys to the game," first baseman Kevin Youkilis said.
Copyright 2018 The Associated Press. All rights reserved. This material may not be published, broadcast, rewritten or redistributed. We strive to uphold our values for every story published.