Meghan Proehl is following the California wildfires with more interest than the average Kansan.
Her parents were evacuated early Monday morning, just before the fire moved to the fence surrounding their home in Rancho Bernardo, Calif. Fortunately, the Kansas University sophomore's home is still standing, but several of her friends were not so lucky.
"My family is all OK. They were able to get back in the house (Wednesday)," she said. "But some of my friends don't have a home to go back to."
One friend sent her a picture of his house burned to ashes; all that remained were two chairs. Proehl said she hopes to help her friends rebuild.
While wildfires aren't a major concern in Kansas, house fires and other natural disasters are.
Jane Blocher, executive director of the Douglas County chapter of the American Red Cross, said it is critical for families to have an emergency plan.
The most important part of that plan should include leaving copies of important documents - Social Security cards, insurance papers, birth certificates and children's immunization records - with someone outside the area.
"I think the most important things that you can take are those documents that are irreplaceable. I mean they are replaceable, but it takes forever," she said. "When we were helping a lot of the evacuees from Hurricane Katrina that landed in Douglas County a few years ago, one thing that really hindered their recovery was they left behind the important documents."
Families also should have a disaster kit: address book, cash, water, first-aid kit, radio, flashlight, a couple of days' worth of clothes and medications.
"You would be amazed after a big fire how many people, especially over the age of 40, who cannot go a day without medication, especially if they are being treated for blood pressure or diabetes. That's huge," she said.
Blocher said she can't stress enough to take action before disaster strikes.
"The thing that is really important is you've got to have a plan."
On the street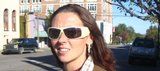 I would take my cat, my kids, whatever cash I had on hand and let the rest burn. I'm a minimalist. I'd like to start fresh.
-->
KU student's hometown affected
Copyright 2018 The Lawrence Journal-World. All rights reserved. This material may not be published, broadcast, rewritten or redistributed. We strive to uphold our values for every story published.