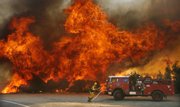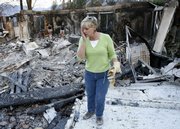 Washington — President Bush promised Wednesday that Washington "will do everything it can" to help Southern Californians fearing the worst from wildfires blazing through canyons and neighborhoods for a fourth straight day.
"Americans all across this land care deeply about them," the president said after a special Cabinet meeting on the crisis. "We're concerned about their safety. We're concerned about their property."
Officials throughout the Bush administration talked in blunt terms about offering more in this disaster than the feeble reaction that followed Hurricane Katrina. That storm blew ashore in August 2005, delivering a sharp blow to Bush's presidency and devastating a region whose misery still continues largely unabated two years later.
The California fires are the first disaster since then that begins to approach the scale of Katrina. The White House was determined to convey a picture of a speedy and effective response, and seemed resigned to comparisons despite the different circumstances of the two crises - for instance the relative poverty of the Katrina victims and the hurricane's much more comprehensive reach.
Since Sunday, the fires have charred about 426,000 acres and caused at least a half-million people to evacuate.
And even as a dozen fires continued to burn and thousands of people sat in shelters wondering if their homes had been destroyed, officials began to look beyond the moment. San Diego County's director of emergency services, Ron Lane, said the fires have caused at least $1 billion in damage there alone.
Bush prepared to travel to the region today for a firsthand look at how the disaster is unfolding and how Washington's efforts to help are working. He also upped the government's engagement by signing a major disaster declaration for California.
Copyright 2018 The Associated Press. All rights reserved. This material may not be published, broadcast, rewritten or redistributed. We strive to uphold our values for every story published.