Photo Gallery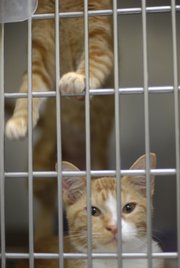 Lawrence Humane Society
Open House today
The Lawrence Humane Society will have an open house from 5:30 p.m. to 8 p.m. today at the shelter, 1805 E. 19th St.
The newly renovated and expanded Charles Ise Memorial Animal Shelter will be rededicated during the open house. In addition, the stray intake facility will be dedicated in the name of Linda K. Watrak, of Denton, Texas, who worked at the shelter from 1997 to 2005 and was instrumental in its success. The dedication ceremony will be at 5:30 p.m.
The humane society still needs to raise $250,000 to pay for the $550,000 project. To donate, call the shelter at 843-6835 or visit its Web site.
Howl-oween fun
The first Doggy Monsters' Ball will be from 4 p.m. to 7:30 p.m. Sunday at the Jazzhaus, 926 1/2 Mass.
The Lawrence Humane Society benefit is open to the public, and families are encouraged to bring their dogs dressed in costume. Activities include a doggy costume contest, a "trick for treat" contest, raffle and fashion show featuring shelter dogs available for adoption.
Participants are encouraged to donate cash or items on the humane society's "wish-list," including clay cat litter, canned dog or cat food, copy paper, bleach, dish and laundry soap, and paper towels.
For more information about the event, call Amber Nickel at 856-7297. For more about the humane society, call 843-6835 or visit www.lawrencehumane.org.
Three tiny white kittens with speckles of color played in a cage Wednesday morning at the Lawrence Humane Society while two older red-striped kittens, Rowdy and Breeze, rested in another cage.
Playing and catching some shut-eye is a little easier for kittens nowadays because of a recently completed 5,000-square-foot expansion and renovation project. Before the project, they were housed with hand pets and noisy puppies such as 6-month-old Sienna, a hound mix, who was wagging her tail and barking up a storm.
Sienna also should be happier because her running space has tripled since the renovation. Instead of being housed in a 3-by-4-foot cage, she now has a 10-by-4-foot area.
"Before, we had puppies in the same room as kittens, and we just had a couple of stainless steel cages. Now we have runs for all of our puppies, and it's wonderful," said Bailey Slater, who has worked at the shelter for one year.
Not only has the project benefited the animals at the humane society, but the 19 employees and 300 volunteers as well. The air quality is better, and they have more storage space and places to work with the approximately 650 animals.
"The extra room is phenomenal," said Midge Grinstead, executive director of the society. "The air intake is working really well."
Slater agreed and said it was challenging to work around the construction - which lasted about six months - but it was well worth it.
"This work room is much bigger and helps us organize things," she said.
The project consisted of adding 1,521 square feet of space and renovating 4,800 square feet at the shelter, 1805 E. 19th St. Some of the project's highlights were:
¢ Adding 14 new 10-by-4-foot dog runs for puppies.
¢ Increasing the number of adult dog runs from 13 to 20.
¢ Creating a room for kittens only, instead of housing them with puppies.
¢ Adding an educational room where people can peruse information such as how to house train a dog and where to find a pet sitter.
¢ Adding a new work-room area where employees can wash animals, towels and dishes.
Still begging
The cost of the project was about $550,000, and the shelter has only raised $297,000. It took out a loan to help pay for the costs - something Grinstead didn't want to do.
"Any money that we spend on interest or on a loan payment is money I could be using to provide services or care for the animals in our community," Grinstead said. "So, I hate it."
Humane society leaders would have waited until the funds could be raised, but state animal health authorities ordered the shelter to make a large number of repairs or face revocation of the shelter license. The repairs included fixing drainage problems, buckling floors and warped ceilings.
Initially, Grinstead hoped to have the project finished by June, but delays in orders, especially metal, caused problems.
"The metal people would not cooperate," she said. "It was just like everything that we relied on other companies for was a problem. So, that was the holdup."
Dedicated worker
Unfortunately, Grinstead said, the new screened-in porch area for cats and hand pets hasn't been completed. She expects the construction to take another six weeks.
She was hoping it would be done for today's open house and dedication ceremony. The stray intake facility, which was built in 2001, is being named after Linda K. Watrak, who started as a volunteer and became a full-time employee for the humane society. Watrak was the operations manager and an animal technician for about 10 years before moving to Denton, Texas, in 2005.
"The shelter would not have been here - it was close to closing - if she would not have come on," Grinstead said. "A lot of the policies and procedures that we do, we attribute to her."
Watrak, who will attend today's festivities, said she was looking forward to seeing the latest renovations.
"These are the ideal circumstances for those animals to survive," she said. "Lawrence should be really proud of having a cutting-edge facility."
And she credits the community and Grinstead for making the shelter a success.
"The only thing that I can say is that my name is on it, but there are hundreds of names that made it possible," Watrak said.
Copyright 2018 The Lawrence Journal-World. All rights reserved. This material may not be published, broadcast, rewritten or redistributed. We strive to uphold our values for every story published.