The first ever 'Zombie Walk' hit the streets of downtown Lawrence Thursday night.
Photo Gallery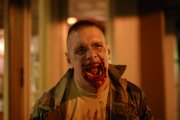 Zombie Walk
About 50 area zombie enthusiasts set out through Massachusetts Street on Thursday, Oct. 25, 2007.
Copyright 2018 The Lawrence Journal-World. All rights reserved. This material may not be published, broadcast, rewritten or redistributed. We strive to uphold our values for every story published.