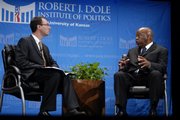 In his words ...
On the future of America
"We have an opportunity to create and build a new America, an America where no one is left out and left behind."
On his involvement in the civil rights movement
The movement was "trying to hold the American house together. One people, one family, one house."
He embraced nonviolence because, "Hate is too heavy a burden to bear."
On health care
"Health care is a right. ... It doesn't matter if you're Ph.D. or no degree."
When the Congress failed to defeat President Bush's veto of the SCHIP bill to expand health insurance to children, "It was one of my saddest moments when we couldn't overturn that veto."
On the first time he was arrested in a nonviolent protest
"I felt so afraid, so liberated, like I crossed over."
On the death penalty
"It is not our role as a state and government" to put people to death.
On the country's reputation in the world
"It's my hope and my prayer that one of the first things the next president will do is rebuild America's moral authority, our moral standing in the world.
"People are not scared about our bombs and missiles and guns. They're concerned about our ideas."
Robert J. Dole Leadership Prize
On an evening when he was presented with Kansas University's Dole Leadership Prize, Rep. John Lewis, D-Ga., called for young people to seek ways to be engaged in the community and praised the value of voting, "the most powerful institute we have."
Lewis accepted the award Sunday in front of packed audience at the Lied Center at an event that began KU's Civic Engagement Week.
Lewis played an integral role in the country's civil rights struggle and is remembered for leading 600 peaceful protesters attempting to cross a bridge in Selma, Ala. in order to register to vote. They were attacked by Alabama state troopers and Lewis suffered a fractured skull. A contemporary of the Rev. Martin Luther King Jr., Lewis exhibited the qualities inherent in Dole Leadership Prize recipients, said Jonathan Earle, Dole Institute interim director.
"The list of political leaders who are also heroes is not a long as you'd think," Earle said. "Here's someone who could have given up on the system," but chose to work as an elected official to effect change in the United States. Earle said Lewis' fight to broaden freedom and voting rights fit the institute's motto, "Politics is an honorable profession."
The audience was a varied lot, including KU students and two members of Kansas' congressional delegation, Democratic Reps. Dennis Moore and Nancy Boyda. They all came to hear a civil rights pioneer and his perspective on how his battle for equality resonates today.
Lance White, a KU graduate student, said it was "an opportunity to pay tribute and respect to those who worked and dedicated their lives to tearing down the walls of injustice."
The Rev. Vaughan T. Bush, Topeka, said he hoped to hear Lewis address the issue of character in the black community, a topic he said was of keen interest to King. He said that Lewis was a personal hero of his.
Bush also wanted to know Lewis' outlook on the country's future. "My concern is what kind of country will we inherit in 20, 30 years," he said
Lewis said he was humbled by the recognition.
"I am more than moved to be receiving this honor," he said at a reception preceding his interview-style presentation at the Lied Center. He said that for the rest of his life, "I will continue to do what I can to be worthy of the Dole Leadership Prize."
He recounted his childhood in rural Alabama, a time fraught with poverty and racism. Later, he became inspired to join King's civil rights movement after hearing him preach on the radio.
It was dangerous work. Lewis said his mother always warned him to stay out of trouble, but "I was inspired to get in trouble. It was good trouble, necessary trouble."
He was an advocate of nonviolence, inspired by Mohandas Gandhi and Henry David Thoreau. Lewis organized some of the country's first sit-ins in Nashville, Tenn., and was arrested more than 40 times. On the day he was beaten in Alabama, he said he expected to be arrested. That's why he brought a backpack filled with an apple, an orange, two books and a toothbrush. Instead, he was injured so badly he thought would die.
Earle, who conducted the interview, asked him about his recent endorsement for president of Sen. Hillary Clinton over Sen. Barack Obama, who could become the nation's first black president.
"I think in American politics, you have to deal with politics that transcend race," Lewis said, adding that should Obama win the Democratic nomination, he would campaign hard for him.
Lewis said that young people shouldn't wait for Congress or the president to galvanize them to be involved in their communities. He lamented that the only young people making great sacrifices for the country are in the armed forces.
"Get out and just do it," he said. "If you see something, say 'I'm going to do it in my own neighborhood, my own campus.'
"We all have an obligation, a mission to give something back, to do something. ... You cannot be quiet."
Copyright 2017 The Lawrence Journal-World. All rights reserved. This material may not be published, broadcast, rewritten or redistributed. We strive to uphold our values for every story published.