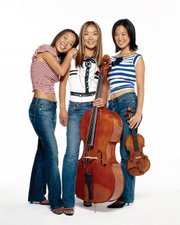 The outside world might notice that members of the Ahn Trio have posed for GAP ads, been in Vogue and GQ magazines and were named in People magazine's 50 most beautiful people list.
But Angella Ahn, the chamber trio's violin player, swears she and her sisters/triomates don't have an image campaign plan.
"In truth, it's kind of interesting, because I know we have this kind of image, but I don't really know where it comes from," Ahn says. "We really honestly don't spend any time thinking about it."
The sisters (also featuring twins Lucia on piano and Maria on cello) do spend plenty of time thinking about music, though. They were born in South Korea but were trained at Juilliard.
They're as likely to play a song by The Doors as they are a classical work. They have been active in commissioning new works, with more than 30 to date. And they're busy with collaborations, including one with a DJ and another with a Czech rock band.
The Ahn Trio will continue to break down musical barriers during a 7:30 p.m. show today at the Lied Center.
Copyright 2018 The Lawrence Journal-World. All rights reserved. This material may not be published, broadcast, rewritten or redistributed. We strive to uphold our values for every story published.