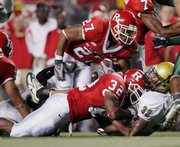 Piscataway, N.J. — It's not easy being No. 2 - just ask South Florida.
The Bulls became the third second-ranked team to lose in the last three weeks, having their unexpected unbeaten run snapped by tricky Rutgers 30-27 on Thursday night.
Third-string quarterback Andrew DePaola threw a 15-yard touchdown pass off a fake field goal to give the Scarlet Knights the lead in the third quarter and Rutgers also used a fake punt to set up a field goal in the first quarter.
Ray Rice provided a more conventional 181 yards on 39 carries for Rutgers (5-2, 2-1 Big East) and Mike Teel threw two touchdown passes to Tiquan Underwood.
"We just went out there and played our best football," Rice said.
The Bulls (6-1, 1-1) had their eight-game winning streak come to an end, no doubt to the delight of Boston College, LSU, Oklahoma and the rest of the teams hoping to grab the second spot in the BCS standings USF held this week.
Matt Grothe threw for 247 yards and a touchdown and ran for 58 yards, but Rutgers' defense swarmed South Florida's multitalented quarterback in the second half and sacked him seven times in the game.
A week after No. 2 California lost to Oregon State and two weeks after then-No. 2 Southern California was upset by Stanford, the Bulls became the 11th Top 10 team to fall to an unranked opponent this season.
Though Rutgers, which started the season ranked 16th, but fell out after two straight losses last month, might not be unranked much longer.
Jeremy Ito lined a career-long 51 yard field with 11:59 left in the fourth quarter to give Rutgers a 30-20 lead.
The last gasp came on a fourth-and-37 from the Rutgers 24. Grothe heaved a desperation pass into traffic and Rutgers defensive back Zaire Kitchen intercepted.
For the second straight season Rutgers came up with a huge victory on a Thursday night at home. Last year it was No. 3 Louisville, at the time the highest ranked opponent Rutgers had ever beaten.
Not anymore. This win set off another celebration, though not quite as wild as last year's after beating Louisville, with fans again flooding the field.
Copyright 2018 The Associated Press. All rights reserved. This material may not be published, broadcast, rewritten or redistributed. We strive to uphold our values for every story published.