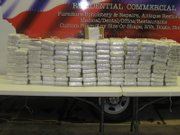 A traffic stop by a Franklin County Sheriff's deputy Wednesday led to the seizure of 500 pounds of cocaine found stashed in a hidden compartment aboard a box van.
The cocaine, estimated by the federal Drug Enforcement Administration as having a street value of $5 million, is the county's largest drug seizure ever, Sheriff's Lt. Jimmie Dean said in Thursday's announcement.
"This is our biggest. That's a lot of cocaine," he said.
Two men were arrested, and charges were expected to be filed today, County Attorney Heather Jones said.
The sheriff's deputy stopped the van because it exceeded legal size limits as it was traveling north on Interstate 35 about 6 miles north of Ottawa. The officer, accompanied by a drug search dog, received permission from the occupants to search the van.
Because of bad weather, the van was taken to a building near Ottawa to conduct the search. The hidden compartment was found toward the front of the van's storage area, Dean said.
"The dog did an alert to an area there. We were able to determine that there was a false compartment, and we were able to get access to it," Dean said.
The compartment was made to be opened by a remote control device, Dean said.
The two suspects were taken to Franklin County Jail on suspicion of distribution of cocaine and not having a drug tax stamp.
The suspects were a 23-year-old from Richfield, Minn., and a 27-year-old man from Mexico. The van they were driving had wording on the side indicating it belonged to a furniture upholstery repair and restoration firm.
"They claimed to be a business," Dean said.
Assisting Franklin County were the Drug Enforcement Administration, officers from Osage and Lyon counties and the Kansas Highway Patrol.
Copyright 2018 The Lawrence Journal-World. All rights reserved. This material may not be published, broadcast, rewritten or redistributed. We strive to uphold our values for every story published.