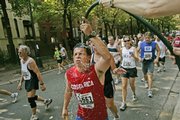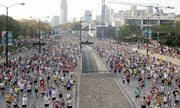 By all accounts, the Chicago Marathon was hot.
Dangerously hot.
A record-high temperature of 88 degrees greeted the 35,867 runners who competed in the race Oct. 7, and the heat, humidity and lack of cooling wind took a toll. An estimated 312 marathoners were taken to medical tents or hospitals on race day, and one - Chad Schieber of Midland, Mich. - died of a heart condition called mitral valve prolapse.
Close to 10,000 runners didn't even show, many believed to have been scared off by the conditions, and close to 11,000 runners who started did not finish.
The heat index prompted race officials to stop the race about 11:30 a.m. - 31â2 hours into the run. Those who hadn't reached the halfway point were diverted to the start/finish area, while those on the second half were advised to drop out, walk or board cooling buses.
Though those who ran hardly can fault the race for the weather, many since have criticized officials for lack of support during the race, alleging water stations that lacked water or volunteers to keep runners hydrated and bemoaning a chaotic, premature end left some marathoners miles from the finish, way off course with no transportation to the finish area.
So, was the Chicago Marathon as bad a marathon experience as some say?
Depends, of course, on whom you ask.
The city of Lawrence was well represented in the Windy City. Eighteen Lawrencians were listed on the official Web site as Chicago Marathon entrants. Of the 18, three were listed as no-shows; all of the others finished.
Here are the stories of four of the city's runners in the sultry event.
Daniel Mudra, 34, finished in 5:11:25
The Chicago Marathon was Mudra's first, so he admits he might not be the best to assess the event.
But this much he knows: "It was a brutal day," he said. "It was humid. The temperature was up. You could run anywhere in that heat and it'd be bad."
Originally from Chicago, Mudra had few complaints about the support from the race volunteers.
"I only ran into one water station where I was turned away," he said, "but I ran into more that were understocked. The worst I ran into was water stations either understocked or understaffed. It was kind of chaotic."
Mudra said he was about 18 miles into the 26.2-mile run when he learned the race had been halted.
"It was under my own decision to complete it or just walk in," he said. "I kept running. I figured if nobody was going to physically stop me, I wanted to finish the race. A lot of people started walking. I had to weave in and out of the walker traffic, but I was fully supported the rest of the way. I had full access to water the rest of the way."
He was startled at the number of people felled by the heat.
"There were moments it was like a 'M*A*S*H' episode," he said. "I saw a lot of people laying on the ground, having IVs run, more than I expected."
Mudra said he didn't suffer unduly in the heat.
"Just normally what you'd expect running 26 miles," he said. "There were times when I was running along, and I didn't know there was anything wrong. I was just in my own little world of trouble, but that was due to my own fitness level."
Renee Rettele, 37, finished in 5:26:23
Rettele is a veteran of marathons in general and Chicago in particular.
It was her fifth marathon overall and third in the Windy City.
"I actually had a fine experience," Rettele said. "I was kind of prepared for the heat. Training in Kansas : we're a little bit more used to the heat and humidity. I slowed down the pace. My goal was to finish, so I didn't have a great time, but I didn't suffer any great heat exhaustion. In fact, I felt good enough to run again three days later."
Rettele's most recent Chicago experience was drastically different than her run there five years ago.
"It was so cold," she recalled. "It was 28 degrees. I had to go buy a hat and mittens. It's Chicago. It's the Midwest. If you're from the Midwest and you're going to run, you have to be prepared for anything."
Rettele actually was surprised to hear about the mass medical maladies.
"Honestly, I had an iPod on. I was in my own little world," she said. "I did hear sirens. I think there were runners who kinda went full speed at the beginning and did suffer, but I didn't personally see people dropping."
She also had no problems at the water stations.
"I almost feel like I ran a different run," she said with a laugh. "Even on the airplane back, people complained about not having water. Maybe people behind me didn't get water, but my experience was that it was fine."
Nate Rovenstine, 45, finished in 4:19:13
Rovenstine was competing in his third marathon, after having completed the Marine Corps and Kansas City events.
Drawn to Chicago's fast and flat course, Rovenstine hoped to run fast enough to qualify for the Boston Marathon. He missed the cut by 10 minutes on Kansas City's relatively hilly course.
"I heard Chicago was flat, but it went from bad to worse with the heat," Rovenstine said. "I was 22 minutes slower than my first one, so it was a pretty disappointing experience. Some days it feels good to run. Some days you have bad days."
Rovenstine said he had no problems at the water stations, but his sister insisted she stopped at a dry one.
Rovenstine said reports likening the race to a war zone were exaggerated.
"I heard that, but there were no bullets flying," he said. "I saw people on the side of the road, and you heard ambulances constantly. There were a lot of angry people, a lot of confusion. But war zone is a bit of a strong metaphor for what I experienced."
Regardless, Rovenstine did require medical attention.
"I ended up dehydrating myself at the end of the race and needing fluids," he said. "You know, I checked the weather on the 10-day forecast. My sister said it was going to be freezing. Even a week out nobody was anticipating this freaky thing."
Mickey Woolard, 55, finished in 5:20:31
Woolard has completed 15 marathons; none compared to Chicago 2007.
"I think that I'd say it was one of the hotter-temperature marathons I've run," he said. "It was certainly disappointing they canceled it. We were about mile 20 when they announced they had canceled it. We'd been training a long time. When something like that happens, it's disappointing."
When word got out the race was over, Woolard took the suggestion to stop running and walk to the finish
"We were allowed to finish the race, which we did, but we were urged to walk and not to run," he said. "I think at some point, you have to physically : you need to look at not just that marathon, but also the rest of the races you have, too. I felt when medical personnel said it was a good idea to walk, there was a reason for that."
Woolard competed in this year's Boston Marathon, which was unusually cold and wet.
"Boston had the worst storm they'd had there in 110 marathons," he said. "Then I get to Chicago and they have the worst weather conditions heat-wise they've had in the 30 years they've done it. I'd like to run one in normal conditions for a change."
For Woolard, the next marathon will be in December in Dallas.
But he'd have no reservations about returning to Chicago, which he considers the "Cadillac of marathons."
"I'm ready to go back," he said. "One thing is, the people of Chicago were absolutely incredible. They were out with their garden hoses. They bought bags of ice at convenience stores and were offering bottles of water and food, wet sponges and wet towels. The crowds and volunteers were just unbelievable. They really, really came through. It could be termed a crisis at that point when runners were struggling, and the people that came out of their homes and businesses were just amazing."
Copyright 2018 The Lawrence Journal-World. All rights reserved. This material may not be published, broadcast, rewritten or redistributed. We strive to uphold our values for every story published.