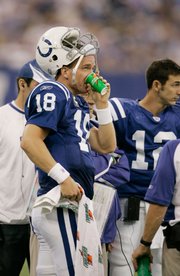 Indianapolis — When Lenny Moore watches Peyton Manning he sees a little bit of John Unitas on every play.
The deliberate steps, the hunched shoulders, the way Manning carries himself on the field. It's pure Johnny U., almost down to the legendary two-minute drill.
So perhaps it's fitting that the two greatest quarterbacks in Colts history are linked in the team's record books. Manning needs three touchdown passes to break Unitas' franchise record (287), a number some people, including Moore, contend does not necessarily make Manning the better player.
"I'm happy for Peyton and I mean that in all sincerity," said Moore, a Hall of Fame running back who played with Unitas in Baltimore. "As a former player, I truly admire his ball playing. ...
"But Peyton Manning is no Johnny Unitas. The game has changed tremendously over the years, and if the game was played the way it is now, what Johnny U. would have done is unbelievable."
What Unitas did then still is amazing.
Of the top 10 quarterbacks in yards passing and the top seven in TD passes, Unitas and Fran Tarkenton remain the only vestiges to the pre-merger days.
Too young to watch Unitas play live, the 31-year-old Manning still recalls his father, Archie, citing Unitas as his favorite quarterback because of his ability to run the hurry-up offense and produce heroic comebacks.
It became the model for Peyton's era. He now relies on the no-huddle as his base offense, changes plays at the line of scrimmage - like Unitas used to in the huddle - and incorporates his teammates in much the manner Unitas did.
Back then it was revolutionary. Now it's trendy.
Even the offensive components have a familiar look. Unitas relied on an array of Hall of Fame teammates such as Moore, John Mackey and Raymond Berry, while Manning's supporting cast has included Marvin Harrison and Edgerrin James, the franchise's new career leaders in receiving and rushing.
Manning credits Unitas for "defining the position" for future generations. He once offered to wear a pair of Johnny U's trademark black hightops as a tribute after Unitas died Sept. 11, 2002. The NFL said no.
So despite the numbers, last year's Super Bowl MVP still finds it humbling and awkward to be mentioned in the same sentence as Unitas.
"I think he did a lot to change the true passing game in the NFL," Manning said Thursday. "I always feel a little uncomfortable when my name is mentioned in the same statistical category as him."
He'd better get used to it.
Already the franchise leader in completions (3,246), Manning is likely to pass Unitas for two more Colts records - attempts and yardage - in the next month. He needs 56 more passes and 864 more yards to surpass both.
And with some good fortune, Manning will soon be the Colts' career leader in victories, too. Unitas won 119 games as a Colt, while Manning has 97 wins in 47 fewer games entering Monday night.
Of course, the NFL regular season was shorter in Unitas' days.
Judging from Moore's description of Unitas, however, the two might be more similar than it appears on the field.
"Johnny studied the game and watched films," Moore recalls. "He and Raymond Berry took it to the nth degree about how you can do this, when you can do this or why you should do this. Johnny called things in the huddle you just wouldn't believe."
Copyright 2018 The Associated Press. All rights reserved. This material may not be published, broadcast, rewritten or redistributed. We strive to uphold our values for every story published.