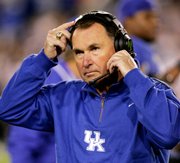 LEXINGTON, KY. — The tables were packed with all things Big Blue: Shirts, golf club covers, signs, flags, pictures.
All of them featured the iconic K of the University of Kentucky. All designed to make sure the 1,500 fans who paid $40 to see new men's basketball coach Billy Gillispie preach at a luncheon in Louisville were outfitted with everything they needed to get ready for one of the most anticipated seasons in the history of the program.
Yet the trendiest item turned out to be something you couldn't find on any of the tables. A white T-shirt, newly pressed, the phrase "LS-Who?" at the top and the score of last week's stunning triple-overtime 43-37 win over the formerly top-ranked Tigers right underneath.
The shirts, available at a regional department store for $14.99 and worn by more than a handful of fans, were more than a fashion statement. They were the latest sign that football - yes football - has finally, maybe, hopefully arrived in the land of horses and hoops.
Need proof?
When the basketball team was unveiled at Big Blue Madness last week, the biggest ovation at Rupp Arena wasn't for Gillispie, the baby-faced, "Aw shucks" Texan who replaced Tubby Smith last spring promising to restore the program to Final Four glory.
Instead, it went to Rich Brooks, the sometimes grumpy, frequently sarcastic 66-year-old whose days trying to resurrect the chronically underachieving program appeared to be dwindling at the beginning of last season.
"It's well deserved because of everything he's gone through with all the criticism and the way that he's running this program," said quarterback Andre Woodson, a Heisman Trophy candidate. "He just continued to fight and continued to believe that he was going to get it done."
Even if no one else did. After taking over a program on probation in 2003, the Wildcats continued to stumble, going 9-25 during Brooks' first three years.
Midway through last season, with the team stuck at 3-4 after a humiliating 49-0 loss at LSU, the clamor for Brooks to leave grew louder. But then the Wildcats held off Mississippi State, upset Georgia and finished the season by beating Clemson in the Music City Bowl to finish 8-5.
It was the school's first bowl victory in 22 years, a nice moment for a program that never seemed comfortable with success - that had consecutive winning seasons just twice in the past 50 years.
"When we've been rewarded," athletic director Mitch Barnhart said, "we found a way to mess it up."
Only this time, the Wildcats haven't. Led by Woodson and heart-stopping wins over Louisville and LSU, the eighth-ranked Wildcats (6-1, 2-1 SEC) have people talking of a shot at the conference title and a Bowl Championship Series berth.
During a time of year typically consumed by the breathless countdown to the basketball opener, UK flags are flying in front of homes. The airwaves are packed with speculation over Woodson's NFL prospects, potential bowl scenarios and nearly unanimous praise for the coach who never stopped believing.
"There was a time when he didn't want to be introduced before a crowd," said former Kentucky basketball coach Joe B. Hall, who led the Wildcats to the 1978 national title and co-hosts a local sports talk show with former Louisville coach Denny Crum. "Now, it's just completely turned around."
Commonwealth Stadium could welcome a record crowd when the Wildcats play No. 14 Florida (4-2, 2-2) on Saturday. ESPN's "College Gameday" will set up shop for two schools that have long been rivals on the basketball court but lived in different stratospheres on the football field.
Not anymore.
"Kentucky has shown that you can, when all the elements are in place, elevate the football program to the highest level," said SEC commissioner Mike Slive. "It's evidence of what we've seen before at an institution, that the school can be highly competitive and successful in more than one sport. It's not an either/or proposition."
Gillispie, who came from football-crazy Texas A&M;, downplays the talk of Kentucky being a "basketball school."
His most effective recruiting weapon this fall hasn't been trotting prospects into Rupp Arena, but having them drive a couple of miles down the road to Commonwealth Stadium to see 60,000-plus draped in blue.
"It helps everything. It's awesome," Gillispie said. "It's been fun to watch that team because the tougher it gets, the better they become, and I've never seen a group like that."
Copyright 2018 The Associated Press. All rights reserved. This material may not be published, broadcast, rewritten or redistributed. We strive to uphold our values for every story published.