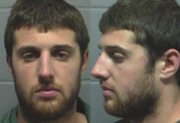 Bond will remain at $850,000 for a Kansas University senior charged with attacking a female acquaintance.
The attorney for Matthew P. Jaeger, 22, asked this morning that bond be lowered to $50,000 - and said Jaeger's family would pay the entire $50,000 to free him from jail.
Douglas County District Judge Robert Fairchild denied the request.
Jaeger is charged with aggravated kidnapping, aggravated battery, aggravated burglary and making criminal threats.
The charges stem from an incident reported about 1:30 a.m. Oct. 9 at North Winds Apartments in the 1200 block of George Court.
Lawrence police have declined to release any information about the incident, but the victim described the attack in detail in an application for the restraining order.
She said Jaeger broke out a window of her second-floor apartment about 1 a.m. Once inside, she said, Jaeger punched her in the head, knocking her out. She awoke, covered in blood with injuries to her vaginal area. She said she was forced into a car that Jaeger's friend was driving, and at that point she thought her life was in danger.
Police eventually pulled the vehicle over, and the woman was taken by ambulance to Lawrence Memorial Hospital.
Copyright 2018 The Lawrence Journal-World. All rights reserved. This material may not be published, broadcast, rewritten or redistributed. We strive to uphold our values for every story published.