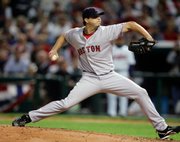 Cleveland — When Manny Ramirez said it wouldn't be "the end of the world" if Boston lost the American League Championship Series, he wasn't speaking on behalf of Red Sox Nation.
But Ramirez's care-free attitude appeared to rub off on his teammates while facing elimination Thursday night in Game 5 at Jacobs Field.
Boston ace Josh Beckett dominated Cleveland in the Red Sox's 7-1 victory before 44,588 shell-shocked fans, sending the series back to Boston for Game 6 on Saturday night.
"The motto in the clubhouse right now is, 'better to die on your feet than live on your knees,'" Beckett said.
While the Red Sox still trail 3-2 in the series, they will have home-field advantage and history on their side. Curt Schilling will try to reprise his role from 2004, when he led the Red Sox to a Game 6 victory at Yankee Stadium in the legendary bloody-sock game. That victory helped Boston recover from a 3-0 deficit to win the seven-game series that preceded their first World Series crown since 1918.
Of the 65 teams that have taken a 3-1 lead in a best-of-seven postseason series, 55 have gone on to win the series. The last team that couldn't get it done was the '04 Yankees.
Thursday's game featured a tense duel for six innings between Beckett and C.C. Sabathia before the Red Sox broke through with two runs off Sabathia in the seventh and took advantage of a bullpen implosion in a three-run eighth to break the game open.
After allowing a first-inning run on Grady Sizemore's bloop double, Asdrubal Cabrera's single and Travis Hafner's double-play grounder, Beckett was in total control.
"We really let him off the hook and weren't able to do anything beyond that," Cleveland manager Eric Wedge said.
Beckett struck out 11 in a brilliant eight-inning outing, walking only one. He improved to 3-0 this postseason with a 1.17 ERA, adding to his impressive October resume.
Kevin Youkilis, who drove in three runs, gave the Red Sox a 1-0 lead with a home run two batters into the game. Ramirez drove in the go-ahead run in the third on a two-out RBI single off the top of the right-field wall.
Ramirez made it only to first because he was jogging, believing the ball was going over the wall for a home run. Manager Terry Francona and Ramirez protested right-field umpire Paul Emmel's call, but replays showed the ball hit the yellow line on top of the wall, which meant it was still in play.
"There's a point as a manager where you don't care if (your argument) is right," Francona said. "You just want the run."
In the long run, it didn't matter.
After giving up a two-out single to Victor Martinez in the first, Beckett began to dominate like he has done throughout his postseason career. He allowed only two hits the rest of the way.
The game nearly got ugly in the fifth when Kenny Lofton challenged Beckett on the mound while running back to the dugout after a flyout. The benches emptied as Lofton shouted at Beckett, though order was quickly restored.
"Those things have a way of working themselves out," Beckett said cryptically.
Copyright 2018 The Lawrence Journal-World. All rights reserved. This material may not be published, broadcast, rewritten or redistributed. We strive to uphold our values for every story published.