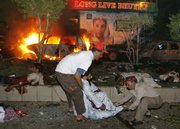 Karachi, Pakistan — Benazir Bhutto was tired and a bit worried about snipers, so she went inside the truck carrying her across Karachi.
It was then that the two bombs exploded, according to a British reporter who was riding with the former prime minister.
"Everybody just screamed, 'Down! Down!' and then shortly afterwards there was a second blast," Christina Lamb told Sky News. "I am covered in blood, but it's not mine."
Bhutto knew she could be a target, Lamb said, and was worried because street lights were going off as the hour grew late.
Bhutto wanted to rest, said Lamb, who has written a biography on the former prime minister. So Bhutto went into a downstairs enclosed compartment in the truck, and was there - and safe - when the attack began Thursday night.
Officials at six hospitals reported 126 dead and 248 wounded. Police chief Azhar Farooqi put the death toll at 113, including 20 police, with 300 people wounded. It was not immediately possible to reconcile the differences. But it was believed to be the deadliest bomb attack in Pakistan's history. The bombings shattered Bhutto's celebratory procession through Pakistan's biggest city after her return from eight years in exile.
'I am not scared'
Police and officials of Bhutto's party said she was not injured and was hurried to her house after the attack. An Associated Press photo showed a dazed-looking Bhutto being helped away.
Bhutto, 54, flew home to lead her Pakistan People's Party in January parliamentary elections, drawing cheers from supporters massed in a sea of the party's red, green and black flags. The police chief said 150,000 were in the streets, while other onlookers estimated twice that.
The throngs reflected Bhutto's enduring political clout, but she has made enemies of Islamic militants by taking a pro-U.S. line and negotiating a possible political alliance with Pakistan's military ruler, President Gen. Pervez Musharraf.
An estimated 20,000 security officers had been deployed to protect Bhutto and her caravan of motorized rickshaws, colorful buses, cars and motorcycles.
Authorities had urged Bhutto to use a helicopter to reduce the risk of attack amid threats from extremists sympathetic to the Taliban and al-Qaida, but she brushed off the concerns.
"I am not scared. I am thinking of my mission," she had told reporters on the plane from Dubai. "This is a movement for democracy because we are under threat from extremists and militants."
Leaving the airport, Bhutto refused to use a bulletproof glass cubicle that had been built atop the truck taking her to the tomb of Pakistan's founding father, Mohammed Ali Jinnah, to give a speech. She squeezed between other party officials along a railing at the front.
Suicide bombing
Her procession had been creeping toward the center of Karachi for 10 hours, moving at a snail's pace while dancing and cheering supporters swarmed around the truck when a small explosion erupted near the front of the vehicle.
That was quickly followed by a larger blast just a few feet from the truck, setting an escorting police van on fire and breaking windows in Bhutto's vehicle. Party members on top of the truck scrambled to the ground, one man jumping while others climbed down a ladder or over the side.
"Evidence available at the scene is suggesting it was a suicide bombing ... (that) exploded near police vehicles, destroying the two police vans escorting Benazir Bhutto's truck," police officer Raja Umer Khitab said. He said several policemen died.
At the scene of the attack, bodies lay motionless in the street, under a mural reading "Long Live Bhutto" on the side of the truck.
The bombs exploded just after the truck crossed a bridge about halfway from the airport to the tomb.
Karachi has a history of violent attacks by Islamic militants, but Thursday's was believed to be among the deadliest.
Joyous return spoiled
The bloodshed marred what had been a jubilant day for Bhutto. She received a rapturous welcome from tens of thousands of supporters, many craning from tree branches and foot bridges to glimpse her return.
The politician wept for joy.
"I feel very, very emotional coming back to my country," Bhutto told AP Television News at the airport, after passing under a Quran held over her head as she got off the plane.
"I dreamt of this day for so many months and years. I counted the hours, the minutes and the seconds just to see this land, sky and grass. I'm so emotionally overwhelmed," she said, dressed in green with a white head scarf to match Pakistan's national flag.
Coming home
Bhutto had paved her route back to Pakistan through negotiations with Musharraf, a longtime political rival whose rule she has often condemned but whose proclaimed mission to defeat Islamic extremism she shares.
The talks yielded an amnesty covering the corruption charges that made Bhutto leave Pakistan and could lead to a political alliance uniting moderates in parliamentary elections for a fight against militants allied with al-Qaida and the Taliban.
Bhutto said there was still a long way to go in political reconciliation with Musharraf, but added that she expected the court to decide in his favor. "If the court did not stop his election, it's unlikely to stop the result of that election," she said.
Bhutto became leader of the Pakistan People's Party more than two decades ago after the military's 1979 execution of its founder, her father Zulfiqar Ali Bhutto, a populist prime minister still exalted by many Pakistanis as the finest leader in the country's 60-year history.
She served twice as the democratically elected prime minister between 1988 and 1996 - the first female premier in the Muslim world - but both governments fell amid allegations of corruption and misrule. After Musharraf seized power, she was charged with illegally amassing properties and bank accounts overseas while in office and she left Pakistan.
Copyright 2018 The Associated Press. All rights reserved. This material may not be published, broadcast, rewritten or redistributed. We strive to uphold our values for every story published.