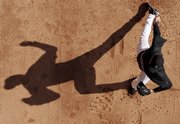 Denver — Todd Helton and the Colorado Rockies returned to work Wednesday a carefree bunch.
They're going to the World Series, that's for sure. Whether they're headed to Jacobs Field or Fenway Park next week, that can wait.
The Rockies took a much-needed break after clinching their first NL pennant Monday night with their 21st win in 22 games. Helton said he spent his day off "basically sleeping."
"We didn't get home until 2 or 3 in the morning. It wasn't too easy to sleep," he said.
Helton said it's been such a whirlwind that he hasn't had time to savor what's ahead after a decade of disappointment in Denver.
"I don't even know if it's sunk in yet. It may take a little while longer," he said. "But I don't want to pinch myself. I don't want to wake up. It's a magical ride and I want to stay on it as long as possible."
The Rockies practiced for two hours in 56-degree, partly cloudy weather, their last workout until a simulated game Friday at Coors Field.
Colorado will start the World Series on the road next Wednesday. Cleveland leads Boston 3-1 in the AL championship series going into Game 5 tonight.
With a record eight days off, the Rockies had plenty of time to get ready. Last year, Detroit had six days' rest, then played poorly in losing the Series in five games to St. Louis.
"I've already had six or seven people bring to my attention that the Tigers had a long layoff last year and didn't play very well," manager Clint Hurdle said.
Hurdle noted that seven of the 10 teams that had to wait five days or more before the Series actually won it all.
"So, if you look for good, you'll find good. If you look for bad, you'll find bad," Hurdle said. "We're of the opinion this is an opportunity, just like any other one we've had this season. We're going to meet it. It can provide some challenges, but it's going to provide some opportunities and we'll be ready to play."
The Rockies will play simulated games of between four and eight innings today through Sunday. They'll have a regular workout Monday before flying to the AL champion's city.
"This is groundbreaking," Hurdle said. "The other option is we could have lost a couple more games, we could have gotten on a plane, we could have made another flight and that would have really cut down on all this down time.
"And maybe put us in a position where we would have had four months of down time," he said.
The Rockies decided against flying to Tucson and working out at their spring training complex in the Arizona desert. They chose the Rocky Mountains' cooler weather, sure, but also their own warm beds.
Once they got to the ballpark on Wednesday, many players tore open big boxes of World Series caps and polo shirts in their lockers. They said it was amazing that the smell of champagne and Coors Light no longer permeated the place.
Most of them spent their time off Tuesday resting or recuperating. They tried to get away from their buzzing Blackberries and iPhones long enough to cut off the calls and text messages from family and friends sending congratulations - and seeking World Series tickets.
"I don't know how they've gotten the number, but they're calling," reliever Matt Herges said.
Copyright 2018 The Associated Press. All rights reserved. This material may not be published, broadcast, rewritten or redistributed. We strive to uphold our values for every story published.