Photo Gallery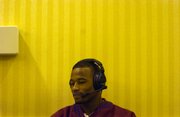 Big 12 Media Day 2007
Kansas City, Mo. — Far from the brute screaming inside your television, tossing a chair across the floor, or giving the "Hey, Knight!" student a lesson in respect he should have received from his parents, sat a candid watchdog of basketball, answering questions for nearly an hour Wednesday at Big 12 Media Day.
Peel back the layers of the complex man Dick Vitale refers to as "Robert Montgomery Knight," and what's left is an abundance of common sense and a deep respect for basketball. Knight communicates in a provocative style that makes the listener step back, look at the game in a different way and very often think, "You know, he's right."
He can be his own worst public-relations man. He can be mean and condescending and act the bully, which leaves those on the other end of such treatment feeling less good about themselves. That's unfortunate. Keep peeling and it becomes evident that in other ways Knight's aversion to PR is one of his best traits. When he talks, he's not speaking indirectly to potential recruits, as do so many modern coaches spinning from the moment their lips move. He owns his opinions. They aren't calculated determinations of what plays best in Peoria. If that leaves him on an island sometimes, so be it. He's an accomplished fisherman. He could survive on an island.
Listen to his responses and you'll notice Knight has no use for platitudes, favored by lazy thinkers.
The 3-point shot is in its 22nd year in college basketball. Does the game's winningest coach like it?
"No, never have," Knight said. "I think it's always been a travesty because it's not the most difficult way to score. The most difficult way to score is trying to drive the baseline and get to the bucket. ... I think it was a real mistake."
The shot clock?
"I've never thought it should be used in the last three minutes of the game," he said. "Your team's playing mine and my team has far better talent than yours has and yet you're ahead by four with three minutes to play and we end up beating you because you have to use the clock, you have to shoot. I think now you've worked your (tail) off the whole game to get there and now you should have the right through basketball skills, which is passing and cutting and moving, to beat us. ... When they brought out the clock, I really pushed that, and I was absolutely surprised at how little support that got."
Knight on the new College Basketball Experience, the museum inside the Sprint Center: "I think they've done a great job with it, but I don't like the name College Basketball Experience. I'll tell you why. You've got all the signage up going east or west on Route 70: 'The College Basketball Experience.' I'm not sure that tells what this is all about. I would like this to be the College Basketball Hall of Fame. And then anybody who's a college basketball fan comes along and says, 'I want to go see that.'"
Knight on The Boss: "I really like George Steinbrenner. I think George Steinbrenner has been good for America. If you could list all the things he has done for people, you would have to do it over about a week. The thing that you have to understand about George is he really likes to win."
So does Knight. That he doesn't do it as often now says more about the state of basketball in America than it says about him.
Copyright 2018 The Lawrence Journal-World. All rights reserved. This material may not be published, broadcast, rewritten or redistributed. We strive to uphold our values for every story published.