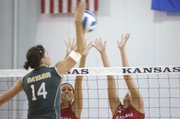 Little verbiage was needed to sum up Kansas University's volleyball match against Baylor Wednesday night at Horejsi Center.
"Discouraging. Disappointing."
Those are the words KU coach Ray Bechard chose to describe the Jayhawks' loss to the Bears.
KU (10-10, 3-7) led Baylor (10-10, 3-7), two games to one, and never trailed in the third game before dropping the final two to lose 24-30, 30-26, 30-28, 26-30, 11-15.
Bechard went on to say that the loss was a combination of Baylor's defense and KU's inability to make plays at times.
"The stat sheet looks pretty good except for our hitting efficiency, too many errors," said Bechard, pointing out that KU had five hitting errors in the decisive fifth game while the Bears had two.
Senior outside hitter Emily Brown, who tallied 14 kills, 27 assists and 14 digs, said the stat sheet didn't mean much.
"We had more digs and more aces (than BU), but there were a lot of volleyball plays we didn't make," said Brown, adding that the fact that the Jayhawks blew a lead against a beatable team at home made the loss more discouraging.
"I don't know if we had the mentality that 'Hey, we're playing at home, it's going to give us that extra edge.' You can't rely on that in the Big 12," she said. "You just have to take advantage of the ones you have at home."
In the loss, KU's Katie Martincich led the team with 31 assists and libero Melissa Manda led with 20 digs. Natalie Uhart and Flavia Lino each had 12 kills.
Bechard thought his team was ready for its opponent when it took the floor Wednesday night.
"I was surprised. We prepared well, the team was extremely focused," Bechard said. "I don't know if jumping out in game one (4-1) early gave us a false sense that things were going to go pretty easy tonight, but everybody knows there's never an easy night in this league."
KU is now tied with Baylor for eighth place in the Big 12.
Bechard gave the conference foe credit for winning on the road following some weather-related travel woes that forced Baylor to arrive late and pushed the start of the contest back 30 minutes.
"(Baylor) seemed to value that opportunity a little more than we did and that's disappointing," Bechard said. "We desperately needed a win tonight and we didn't get that."
Brown said, given BU's travel problems, KU should have capitalized.
"(It's) just not a good feeling having somebody come in, especially when they rolled in five minutes before they warmed up, and they could seem to get it done where we can't," she said. "We were ready way before that. It's kind of a frustrating feeling."
The Jayhawks, who have dropped five of their last six, hit the road for their next match at top-ranked and undefeated Nebraska on Saturday.
Copyright 2018 The Lawrence Journal-World. All rights reserved. This material may not be published, broadcast, rewritten or redistributed. We strive to uphold our values for every story published.