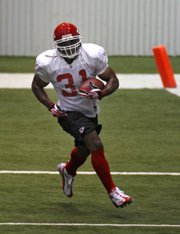 Kansas City, Mo. — Priest Holmes went through a full practice Wednesday, a giant step toward what could be turning into one of the NFL's great comebacks.
Now 34 and out of football since suffering neck and spinal injuries two years ago, Holmes was cleared to practice for the first time since he shocked the Chiefs last summer and showed up at training camp.
He has been working out diligently and trimming away the 15 or so pounds he gained while staying home the previous 22 months, hardly going near a football field.
Now, he says, he's ready to resume a career that took him to three Pro Bowls and made him one of the league's most productive backs before the injury that just about everyone assumed ended his career.
"One of the things I can take from practice is I still have a lot in me," he said. "That was one of the surprising things not so much for the team to see, but also for myself to see, how well I performed."
He acknowledged he's not yet the athlete who had almost 6,000 yards rushing and 2,360 yards receiving from 2001-06, and in 2003 scored a then-NFL record 27 touchdowns.
"There were a few things that took me by surprise," he said. "There was one play where they sent two linebackers in on me and ... my awareness wasn't there initially. I'm seeing two guys coming at me. Which one do I take? And the better one gets a good hit on me. But I stood in there. I got my wig split. I got hit pretty hard. But I bounced back and got ready to play the next snap."
Coach Herm Edwards admits he never expected to see Holmes in uniform again. For one thing, the injury he sustained in San Diego in October 2005 was not merely career-threatening. It was possibly life-altering because doctors feared a risk of further spinal injury.
By now, Edwards says, nothing about the enigmatic running back would shock him.
"What's surprising was when he decided not to retire and said he was coming back. That surprised me," Edwards said Wednesday.
"But once he showed up, nothing else surprised me about the guy. He has great focus on what he wants to do. He wanted to attempt to come back. A lot of people probably anticipated that he would check out before now. But he didn't."
Edwards said he still did not know if Holmes would be activated for this week's game at Oakland - or, for that matter, ever.
"We'll see how he feels tomorrow. That's the whole key now, how is he going to feel tomorrow? And then the next day? Where is he going to be the next couple of days?"
Edwards said Holmes went through a full practice, even working some on the scout team against the first-team defense.
"He still has quickness," he said. "He has burst. He has great acceleration. He hasn't lost that. Maybe he doesn't have what he had four years ago, but he's still OK. He didn't get hit and lay down and not want to come back. He got up and dusted himself off and got back in the huddle and did it again.
"Now, I've got to see tomorrow what happens."
Throughout his career, Holmes has confounded those who counted him out. A knee injury in college kept him from being drafted, but he signed with Baltimore and became a 1,000-yard rusher. The Ravens let him go in 2000 and he immediately became a Pro Bowler with Kansas City.
Many thought a hip injury would end his career in 2002. But the next year he set an NFL touchdown record.
"If you put your mind to anything, no matter what it is, with training, you can accomplish any goal in life," he said. "I believe that."
He said he doesn't feel he has anything to prove.
"I think the proof came when I was able to go through camp. That's where doubt could come in and say, 'You're crazy for coming back. Why do you even want to get up at 7 o'clock in the morning? You could be back in Texas. You could be on your jet skis and on your motorcycle?'
"But there's a time and place for everything. And I believe that this particular time is an opportunity for me to come back to the league."
Copyright 2018 The Associated Press. All rights reserved. This material may not be published, broadcast, rewritten or redistributed. We strive to uphold our values for every story published.