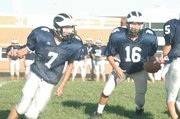 Today the junior high freshman football season comes to a close as all four city teams hit the field. But city bragging rights will be at stake when South (4-3) plays host to Southwest (7-1) at 3:45 p.m. at Lawrence High.
Both teams boast 2-0 records in city play and come into the game with momentum. Southwest hasn't lost since its home opener against Manhattan, while the Cougars, who dropped three of their first four games, have reeled off three straight victories.
Each team features a balanced offense and defense. Cougars quarterback Chris Gaston has a pair of strong options on the ground with running backs Jon Pederson and Alex Laughlin.
Through the air, the Cougars have deep threats with wideouts Clarke Cunningham and Trenton Sheppard, each of whom has hauled in touchdown catches of 40 yards or better this year.
A week ago at West, the Cougars put everything together, using a bruising ground attack and a long touchdown pass to put the Warhawks away early. The defense forced two turnovers and gathered four sacks. This week the Cougars will look to duplicate the feat accomplished by their eighth-grade counterparts on Tuesday - a 26-12 victory over undefeated Southwest.
The Bulldogs, meanwhile, have been on a roll since a heartbreaking last-second loss to Manhattan in late August. Since then Southwest has knocked off three Shawnee Mission teams and scored first in every game since the opener.
The Bulldogs enjoy a robust running game with the dual options of Cody Oller and Matt Cole in the backfield. The tandem combined for five of Southwest's nine touchdowns a week ago against Central and has gone above the 200-yard rushing mark in consecutive games.
The Southwest defense looks to match South's lockdown approach. Last week the Bulldogs had a pair of fumble recoveries and an interception.
Copyright 2018 The Lawrence Journal-World. All rights reserved. This material may not be published, broadcast, rewritten or redistributed. We strive to uphold our values for every story published.