Photo Gallery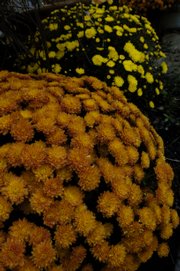 Autumn festivity
What to plant
George Osborne's top pick for autumn-colored annuals:
¢ Impatiens
¢ Vince periwinkle
¢ Cup plants, bat face cuphea
¢ Globe amaranth, gompherena
¢ Mexican heather
¢ Tropicals, coleus, cannas, thalia, brugmansia, datura
¢ Plectranthus
¢ Copper leaf acalypha wilkesiana
There is something about fall that is refreshing and invigorating when you are out in the garden. Autumn doesn't signify a period of shutting down and dying off but rather of new beginnings and the generation of fabulous, fresh ideas. I've noticed that colorful autumn gardens seem to elude most of us; maybe we're too consumed with raking every leaf that flutters to the earth, or we've blown the budget on gourds and pumpkins and other perishable items we use for seasonal "color."
That's not the case for George Osborne's refreshing autumn scene.
Osborne, owner of George Osborne Landscape Design, does not rely on the obvious little mum or two nestled by the entryway; he isn't dependent on the plumes of an ornamental grass here and there for fall liveliness. Instead, you'll witness the waxy leaves of tropical beauties, a billowing, pillow effect of thousands of blooming annuals bright with brilliant colorful faces and flora that you've never even heard of.
"You have to not be afraid to experiment and try to get a sense of things that repeat," Osborne says. "Making plants look like they fit in and aren't out of place is essential, plus you have to use lots of annuals for exceptional year-round color."
He definitely doesn't shy away from wowing onlookers with a bevy of flora that is out-of-the-ordinary:
¢ Angel's trumpet brugmansia, with huge apricot blooms, dangles off a woody-stemmed potted tree
¢ A pot brims over with yellow lantana and copper leaf acalypha wilkesiana
¢ Towering red stem thalia waves its delicate purple blooms in the autumn breeze
¢ Deep eggplant blooms of datura, with enormous flowers and fascinating lotus-like pods, mingle with petite blooms of Mexican heather and periwinkle vinca.
"The garden has to fit together like a big picture; it cannot be a bunch of individual areas," Osborne says. "Pots are great as well; they are easy to water and can be changed out often.
"People tend to be bashful about pots," he adds. "I cram them together until they are about ready to explode."
Osborne gets a lot of his ideas and inspirations from traipsing around public gardens; he frequents Powell Gardens in Missouri, Muriel Kauffman Gardens in Kansas City and the Botanica Gardens in Wichita. But he says that the bottom line is you just have to be willing to learn.
"You have to learn trees, woody plant, turf and long grasses, annuals and perennials, you have to learn it all to have a spectrum to weave together," he says. "If you hear a gardener say, 'I don't want to replant every year:' well, that person is not going to have continual color. There will inevitably be periods of no color in an all-perennial garden."
Copyright 2018 The Lawrence Journal-World. All rights reserved. This material may not be published, broadcast, rewritten or redistributed. We strive to uphold our values for every story published.