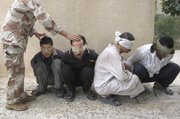 U.S. Deaths
As of Wednesday, at least 3,830 members of the U.S. military have died since the beginning of the Iraq war in March 2003, according to an Associated Press count.
Baghdad — A roadside bomb exploded near a police patrol Wednesday, killing at least seven officers in a Shiite area south of Baghdad that has seen fierce clashes between rival militia factions.
To the north, a suicide bomber driving an explosives-laden truck struck a checkpoint manned by Kurdish forces in a volatile province where U.S. commanders have decided to begin the drawdown of American forces, marking a turning point in the mission.
The attack in a mountainous area near the Iranian border killed at least one Kurdish soldier and wounded more than 10 others, said Jabbar Yawir, a spokesman for the Kurdish forces.
Yawir said the dead and wounded men were from a brigade that arrived last month as part of a U.S.-Iraqi security crackdown that began in February.
Several U.S. officials told The Associated Press that in December, the 3rd Brigade of the 1st Cavalry Division will not be replaced when it returns from Diyala to its home base at Fort Hood, Texas. Instead, soldiers from another brigade in Salahuddin province next door will expand into Diyala, thereby broadening its area of responsibility.
Iraqi forces are frequently targeted by extremists on both sides of the sectarian divide, trying to deal a blow to U.S.-led efforts to enable the national troops to take over security so American forces can go home.
Nobody claimed responsibility for the attack against the Kurdish troops, but the suicide bombing bore the hallmarks of al-Qaida in Iraq, which has staged several attacks recently after promising an offensive to coincide with the Islamic holy month of Ramadan, which ended last week.
U.S. commanders have said that the increase in troops ordered by Bush in January - and the increased operations that followed - have left al-Qaida fractured and pushed militants into remote parts of the north and south of the country. Additional operations have been going after those pockets of fighters.
Iraqis have enjoyed periods of relative calm in the past, particularly after the killing last year of al-Qaida in Iraq leader Abu Musab al-Zarqawi, but the group has proven resilient in finding new recruits and tactics to maintain the violence.
U.S. troops captured 15 suspected militants in operations targeted al-Qaida on Wednesday in Tikrit, Ramadi, Baqouba and Mosul. Those captured were accused of helping smuggle foreign fighters and weapons into Iraq, including five with alleged connections to Syrian-based extremists.
Meanwhile, the U.S. military released about 350 detainees as part of a goodwill gesture marking the end of Ramadan.
However, more than 25,000 Iraqis remain in custody, most in a legal limbo where they are never charged with a specific crime or given a chance before any court or tribunal to argue for their freedom. Of those who receive a proper trial, about 50 percent will be acquitted, the military says.
Iraq's Shiite Vice President Adel Abdul-Mahdi, who attended Wednesday's ceremony, said he believed "the great majority" of detainees released were innocent.
"Everyone should cooperate to empty all detention centers ... of anyone who did no wrong or anyone who was unjustly detained," he said. "We all must cooperate so only those left in prisons are criminals and those who actually deserve punishment."
Copyright 2018 The Associated Press. All rights reserved. This material may not be published, broadcast, rewritten or redistributed. We strive to uphold our values for every story published.