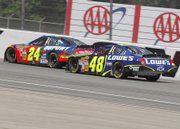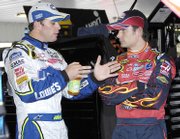 For the second Nextel Cup season in a row, Denny Hamlin has driven his guts out.
And for the second season in a row it looks like come mid-November, he will be standing in the darkness of South Florida with nothing but a mouthful of dust - dust kicked up by a car owned by Hendrick Motorsports.
But if it's any consolation to Hamlin, he probably won't be the only driver leaving Homestead-Miami Speedway five weeks from now deprived of a championship by a Hendrick driver.
Hamlin, it appears now, will have 10 brothers that day.
Hendrick drivers Jeff Gordon and Jimmie Johnson have ruled the series the last two seasons.
Ruled? Well, during the 67 races in 2006 and '07, either Gordon or Johnson has started 53 of them as the series point leader.
Johnson sat atop the standings for 26 races a year ago - including the final three - and won the championship. He has led three weeks this year.
Gordon has been on top for 24 of 31 weeks this year and is currently atop the Chase for the Nextel Cup Championship standings. In second place, 68 points back, is Johnson.
Only Clint Bowyer has prevented this year's Chase from being a Hendrick-only party - with five Chase races completed, Bowyer is the only driver within 150 points of the Gordon and Johnson - he is 78 back from the top spot.
Eight of the 12 drivers in the Chase are more than 200 points out of the lead.
A year ago, Hamlin had top-three finishes in three of the final five races and had an average finish of fifth in those events and still finished 68 behind Johnson in the final standings.
Hamlin was asked last week if the Hendrick dominance is becoming demoralizing for other teams.
"It might be," he said.
It's the consistency of Gordon and Johnson that is leading to the demoralization of the other Chasers, Hamlin said. While other teams are blowing engines and getting tangled up with non-Chasers in wrecks, every time the smoke clears, there sits a Hendrick car.
"I definitely think it's tough, because you know you can perform as good as, you know, 95 percent of the guys out there," Hamlin said. "But those guys just seem to perform every single week. You know, they have got everything together. They have got two great crew chiefs. They have got two awesome drivers. It's tough to beat that, it really is."
Hamlin, who is ninth in the Chase standings, is 349 points behind Gordon.
"For all realistic purposes," Hamlin said, "I would say we are out of it."
Hamlin is not the only driver looking at a half-empty glass.
Jeff Burton, 10th in points and 366 back, said, "I suspect this is just too much for us to overcome regarding the championship."
Martin Truex Jr., 11th in points and 378 back, said, "We'll just keep going and try to win races from here on out and just do the best we can. We're way back in the points and that's not looking good. But we can still win a bunch of races. So we'll just go have some fun."
Even Kyle Busch, a teammate of Gordon and Johnson, seems resigned to the fact that this is shaping up as a Hendrick kind of Chase. He said he would love to still be optimistic but realism is setting in.
"It is going to take a lot to get back in this deal," said Busch, sixth in points. "Especially when you have great racers like Jeff Gordon, Jimmie Johnson and Tony Stewart who are up front in the points and haven't had much bad luck in this Chase deal."
About the only one thinking positively - realistically capable of thinking positively - is Bowyer.
"We're not out of this thing by any means," he said.
Copyright 2018 The Lawrence Journal-World. All rights reserved. This material may not be published, broadcast, rewritten or redistributed. We strive to uphold our values for every story published.