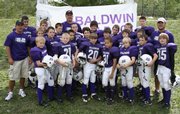 Moving never is easy.
For the sixth-grade Baldwin Bulldogs football team, their home for the past four years was very comfortable. The team played in the Lawrence Youth Football league last year, going undefeated and winning the fifth-grade Toy Bowl championship.
This year though, the team has made the move away from LYF and joined the Kaw Valley League. Like many moves - new faces, new places - this one took a little bit of getting used to.
"It was different at first," Skyler Shockley, Baldwin sixth-grader and Bulldog running back, said of the Bulldogs' first KVL game.
"The players were a little bigger, and it was kind of hard. But we beat them 33-0, so it ended up OK."
Things have ended up more than OK for the Bulldogs so far in their inaugural KVL season. The team has gone 7-0 in the regular season - playing most of its games at Basehor's Field of Dreams - and heads into this weekend's postseason feeling pretty good about its chances.
"We've been playing pretty well," Shockley said. "So I think we can win."
The confidence these young Bulldogs have can be attributed to a number of factors.
They've played together since second grade and congratulate each other for good plays and scold each other after bad plays.
They work themselves silly with a three-night a week practice regiment. Not to mention the fact Shockley has amassed 62 touchdowns in his youth football career behind his friends on the offensive line.
"Without them, we wouldn't be very good," Shockley said. "They're the most important part of our team."
This deep into the season, the Bulldogs have gotten through most of their nervousness from making the move to a new league. They have managed to rout most of the new competition they have faced and seem ready to make a championship repeat.
But more importantly, the move into the Kaw Valley League has prepared the hard-working Bulldogs for another move that's soon to come: junior high.
That move will have one very big difference from the one made this year.
"We've had the same coaches the whole time," Shockley said. "So it will be a lot different having new coaches."
One thing Shockley will not have to worry about is making the big leap to the junior high level alone. Many of the sixth-grade Bulldogs will be right there on the practice field and that means everything.
"That feels pretty good," Shockley said. "That's going be a good experience."
Copyright 2017 The Lawrence Journal-World. All rights reserved. This material may not be published, broadcast, rewritten or redistributed. We strive to uphold our values for every story published.