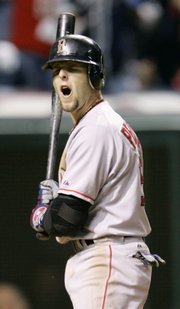 Cleveland — As October's curtain rose, they were unknown underdogs.
Nobody's calling the Cleveland Indians anything close to that now.
"This club believes in itself," third baseman Casey Blake said. "We know we're here for a reason, and there's no reason we can't win this series - and go to the World Series."
Jake Westbrook, often overlooked in Cleveland's top-heavy starting rotation, kept Boston grounded for nearly seven innings Monday night, leading the Indians to a 4-2 victory over the Red Sox and a 2-1 lead in the AL championship series.
With two more games at Jacobs Field, the Indians, who haven't won it all since 1948, are in control of a best-of-seven series that seemed to belong to Boston after the opener. But as they did against the New York Yankees in the opening round, the Indians are showing they can swing with baseball's big boys.
"We're up 2-1," closer Joe Borowski said. "Hopefully, we can keep that momentum going."
Westbrook, a laid-back Georgian, doesn't possess the overpowering stuff of C.C. Sabathia or Fausto Carmona - Cleveland's two aces who flopped in Games 1 and 2 at Fenway Park - or their stellar reputations.
But Westbrook does have a devastating sinkerball, and oh my, how it sunk the Red Sox.
"I was able to make good pitches when I needed to," said Westbrook, who lost at Yankee Stadium last week. "I'm a sinkerball guy. That's what I live and die by. I threw that all night and was able to mix in my secondary pitches pretty well."
At the Jake, Jake was all the Indians needed.
Backed by an early homer from old pro Kenny Lofton, the right-hander took a shutout into the seventh inning.
"Our bullpen has been working hard. Jake controlled the ballgame. He did a good job working ahead and keeping the ball on the ground," said Indians manager Eric Wedge, who used five relievers in Cleveland's Game 2, 11-inning marathon victory.
Game 4 tonight will feature two soft tossers: Cleveland's Paul Byrd, with his old-school windup, and Boston's Tim Wakefield, the 41-year-old knuckleballing master who hasn't pitched Sept. 29.
The Red Sox are counting on past postseason success to pull them through.
"We have to come in tomorrow and play hard," David Ortiz said. "We've been in worse situations, but we have to produce. It's that simple."
Boston grounded into three double plays, two by October's scariest twosome - Ortiz and Manny Ramirez. They also combined for something even more unusual: Ramirez's grounder nailed Big Papi in the leg on the basepath between second and third for an easy out that helped Westbrook.
"I was taking my normal lead, and before I knew it, the ball was right on me," Ortiz said. "It came up high on me, and there was nothing I could do about it."
In all, Westbrook got 14 of 19 outs on balls the Red Sox pounded weakly into the manicured grass and infield dirt at Jacobs Field, which served as host for its first ALCS game since 1998. Back then, Westbrook was in Montreal's minor-league system perfecting a pitch that drops, dips and darts as it approaches home plate.
The Red Sox couldn't do anything with it until the seventh, when Jason Varitek hit a two-run homer.
"He made all the right pitches at all the right times," Varitek said.
Jensen Lewis relieved with a runner on and struck out rookie Dustin Pedroia to end the inning. Rafael Betancourt worked a perfect eighth, and Borowski, the AL saves leader, pitched a rare 1-2-3 ninth.
Lofton, with a baseball passport stamped by 11 teams over 17 seasons, handed Westbrook an early lead with a two-run homer in the second off rookie Daisuke Matsuzaka. Cleveland added two more runs in the fifth against Dice-K, the high-priced Japanese import whom the Red Sox invested more than $100 million in to pitch in games like this.
"I thought he threw some good pitches," manager Terry Francona said. "But he was in a lot of deep counts."
By comparison, Westbrook was a bargain at $33 million for the Indians, who locked him up in April for three more years before he had a chance to test the free-agent market after this season.
Westbrook then spent seven weeks on the disabled list with a side injury and didn't find his groove until August, when he went 4-1 with a 1.90 ERA. But even then, Westbrook, who lost to the Red Sox on July 23, wasn't expected to shut down Boston.
Westbrook was in complete control until J.D. Drew singled to center in the seventh. Varitek followed with his homer, bringing the Red Sox to 4-2.
The homer ended Boston's 13-inning scoreless streak, a drought that began in the sixth inning of Game 2.
Copyright 2018 The Associated Press. All rights reserved. This material may not be published, broadcast, rewritten or redistributed. We strive to uphold our values for every story published.