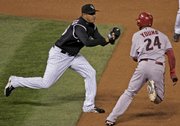 Denver — Now, we'll see if an eight-day vacation can do something to the Colorado Rockies that no opponent has done for a month.
Cool them off.
The "Hot Rox" continued their autumn search-and-destroy mission Monday night, holding off the Arizona Diamondbacks, 6-4, at Coors Field to complete a four-game sweep of the National League championship series and advance to their first World Series.
Colorado became the first team since divisional play began to sweep a division series and LCS in the same postseason. Beyond their 7-0 playoff record, the Rockies have won 10 consecutive games and 21 of their last 22, an unprecedented run at this time of year.
"This is a special moment in the career of every man involved in this," Colorado manager Clint Hurdle said. "This may never happen again.
"This is one of those things where you get everybody back 10, 20 years down the road and you have a reunion gig, I would think. Who knows?"
The Rockies will try to avoid becoming a victim of their own quick-strike success. By sweeping the NLCS, they will go eight days without playing a game before opening the World Series on Oct. 24 in either Boston or Cleveland.
That period of rest easily is the longest for a team entering the Fall Classic. The previous mark was six days in 2006 for the Detroit Tigers, who appeared to lose their edge during that down time and lost in five games to St. Louis in the World Series.
Colorado has seen many unlikely heroes step to the forefront during its amazing surge, and that trend continued in a six-run fourth-inning rally that decided the game. With two on and two down, Hurdle gambled by removing starting pitcher Franklin Morales with the Rockies trailing, 1-0, in favor of pinch hitter Seth Smith.
After recovering from minor shoulder surgery, Smith was summoned from the minors on Sept. 16, the very day the Rockies began their 21-1 run. He was allowed to make Colorado's post-season roster as an injury replacement after going 5-for-8 as a pinch hitter.
Continuing the Rockies' run of good fortune in the series, Smith blooped an opposite-field double into shallow left, just inside of the foul line. Both runners scooted home, giving Colorado a 2-1 lead against rookie right-hander Micah Owings.
The Diamondbacks had a chance to escape the inning down by only one run, but first baseman Conor Jackson booted Willy Taveras' grounder. As so often happens when a surging team gets an extra chance, the flood gates opened.
For the Diamondbacks, it was a disappointing ending to a surprise season in which they posted the best record in the league (90-72). Arizona was the only team to beat the Rockies over their last 22 games, winning, 4-2, on Sept. 28 at Coors to clinch the NL West title.
Copyright 2018 The Lawrence Journal-World. All rights reserved. This material may not be published, broadcast, rewritten or redistributed. We strive to uphold our values for every story published.