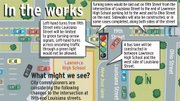 Traffic around the busy intersection of 19th and Louisiana streets will be rerouted next summer as the area gets a makeover designed to ease congestion and increase safety.
City employees on Monday answered questions at an open house at Lawrence High School. More than 50 area residents dropped by.
"I haven't heard any objections tonight," said Chuck Soules, the city's public works director.
The bulk of the project is set to take place between June 1 and July 31. While some water line work could begin before June 1, Soules said the major parts of the project will take place in June and July. Nineteenth Street will be closed between Alabama and Ohio streets during the project. And traffic will not be able to flow from Louisiana Street onto 19th Street.
Once completed, there will be turning lanes on 19th Street on both sides of the intersection. There will be sidewalks along both sides of the 19th Street.
The project also includes the construction of a bus lane on the west side of Louisiana Street. And left-hand turns from 19th Street onto Louisiana Street will require a green turn arrow.
The project is expected to cost between $800,000 and $900,000, with the state picking up about 20 percent of the tab, Soules said. The school district will spend about $86,000 for the bus turnoff lane along Louisiana Street.
Soules said he didn't hear from any naysayers Monday, but residents did come with questions about how the project would affect their property and disrupt their summer.
Phil Miller, who owns property at the corner of 19th and Indiana streets, came to learn the fate of his fence on the north side of 19th Street.
"I thought that probably I'd lose it, but they've assured me that all work will be outside of the fence," he said.
Miller said he approves of the project.
"I think there's a problem at the corner of Louisiana and 19th streets, and that's what this is all about," he said. "The problem being not enough room. It's a very busy corner, especially at high traffic hours. I think that there's been some problems there and maybe a few wrecks and so forth. I just believe that this will alleviate that."
Valerie Foos, who lives on Louisiana Street, said she was concerned about accessing her driveway while the work is under way.
"We think it's an excellent idea, but we were worried about how we would get out of our driveway and continue to use Louisiana Street, and they assured us there wouldn't be a problem with that," she said.
Some residents had questions about easements.
"We're trying to have as little impact on the area (as possible) other than improving the street," Soules said.
Copyright 2018 The Lawrence Journal-World. All rights reserved. This material may not be published, broadcast, rewritten or redistributed. We strive to uphold our values for every story published.